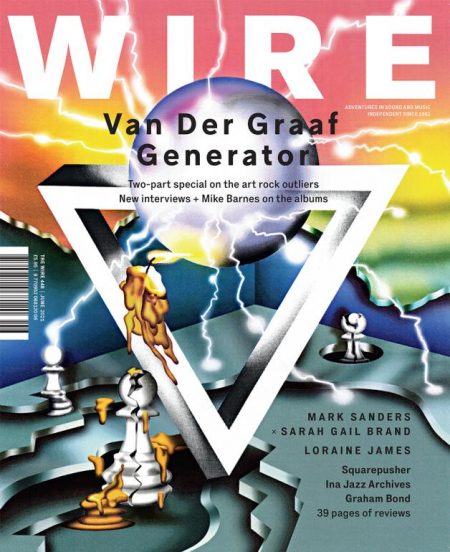 The Wire - # 448
Inside this issue:
Van Der Graaf Generator: Ahead of a major retrospective box set and with a new tour on the horizon, Emily Bick speaks to the dark magi of UK progressive rock, led by the indefatigable Peter Hammill. Plus: The Primer: Mike Barnes essays a user's guide to the recordings of the band and their offshoots.
Loraine James: A new album from the UK producer reflects the strain of isolation and the artistic benefits of an open mind. By Stephanie Phillips
Invisible Jukebox: Sarah Gail Brand × Mark Sanders: The trombonist and drummer duo test each other with a mystery record selection
Dalibor Cruz: The Honduran-American producer hits the hardware. By Joe Muggs
Mesías Maiguashca: The Ecuadorean concrètist recalls a life in sound and music. By Joshua Minsoo Kim
Chunyang Yao: Naxi composer unites word, sound and dance. By Josh Feola
Omar El Sadek: Vivid city collages from the Prague based Egyptian artist. By Miloš Hroch
Unlimited Editions: Glistening Examples
Unofficial Channels: Keygen music
Global Ear: Independence and experimentation in Kaohsiung, Taiwan. By James Gui
The Inner Sleeve: Squarepusher on The Mothers Of Invention's Burnt Weeny Sandwich
Epiphanies: Han-earl Park gets amped up
Print Run: New music books: Cuban cover art, a little Licht reading, Pacific Northwest metal, gender ventriloquism, and more
On Screen: New films and DVDs: Qwest TV
On Site: Recent art shows: Remind Me Tomorrow, Cory Arcangel
On Location: Recent live events and streams: Borealis 2021, Brilliant Corners, Éliane Radigue, Steve Gunn, and more
Plus loads of reviews of new records and re-issues.
Medium: Magazine
Related Products