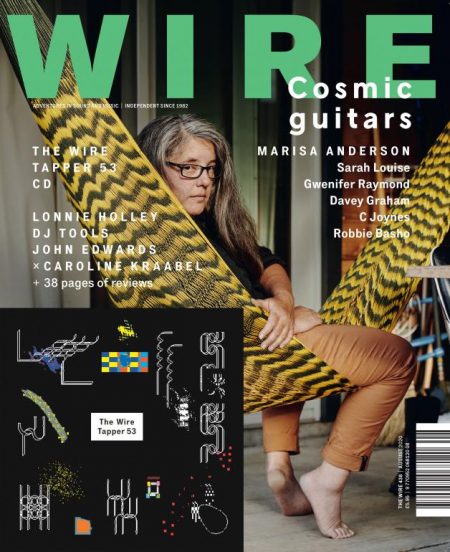 The Wire - # 438
Including the latest Tapper CD compiliation, always full of surprises. Same goes for the inside: Cosmic Guitars: 10 page survey of the state of de- and retuned fingerpicking guitar music, featuring Marisa Anderson, Robbie Basho, C Joynes and more.
Invisible Jukebox: Caroline Kraabel × John Edwards: The UK improvisors have a moment together with The Wire's mystery record selection
Lonnie Holley: The singular songs and vibrant assemblages of the 70 year old Alabama born singer, songwriter, musician and artist speak to the power and fragility of beauty. By Emily Pothast
Primer: DJ Tools: A user's guide to the unsung essentials of the DJ box: the purpose made records that have kept the dancefloor moving since the days of disco. By Michaelangelo Matos
Unlimited Editions: High Focus Records
Unofficial Channels: Music Notation Is Beautiful
MC Yallah: The Uganda based Kenyan rapper brings rebellion to multiple genres. By Stephanie Phillips
Eric Frye: Deep explorations of perception and communication from the Minneapolis composer. By Derek Walmsley
Bob Vylan: The London duo hammer out a new future for protest punk. By Joseph Stannard
Mosquitoes: Percussive purging from the UK trio. By Jennifer Lucy Allan
Global Ear: Our regular column continues to report on music in the time of pandemic. This month: clubbing in Paris and supporting young people in Glasgow
The Inner Sleeve: DeForrest Brown Jr on Drexciya's The Quest
Epiphanies: How school days, B movies and an encounter with the blues informed the artistry of Shirley Collins
..loads and loads of music reviews..
Book reviews:
The World's Worst: A Guide To The Portsmouth Sinfonia edited by Christopher M Reeves & Aaron Walker
The Drexciyan Empire Presents The Book Of Drexciya Vol 1 by Abdul Qadim Haqq, Dai Sato, Leo Rodrigues, Alan Oldman, Hector Rubilar, Leonardo Gondim, Daniel Oliviera & Milton Estevaml
Play The Way You Feel: The Essential Guide To Jazz Stories On Film by Kevin Whitehead
Duchamp Is My Lawyer: The Polemics, Pragmatics, And Poetics Of UbuWeb by Kenneth Goldsmith
Charlie Nothing: State Of The Ding by Zully Adler
European Echoes: Jazz Experimentalism In Germany, 1950–1975 by Harald Kisiedu
Papers by Sarah Davachi
Medium: Magazine
Related Products