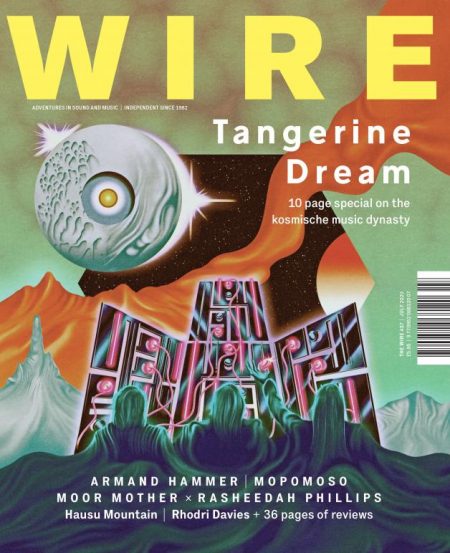 The Wire - # 437
Inside this issue:
Tangerine Dream: The members of this group with by now cosmic proportions, discuss deep space, evolution and late leader Edgar Froese with Phil Freeman. Plus: David Burraston on the group's synthesizers, Matt Krefting on their 1970s albums, Emily Pothast on their artwork, and Philip Brophy on their decades-spanning relationship with cinema.
Armand Hammer & Backwoodz Studioz: Joined by ShrapKnel, Duncecap and other comrades affiliated to Brooklyn's Backwoodz Studioz label, MC Billy Woods and rapper/producer Elucid carve out a fresh future for rap. By John Morrison
John Russell & Mopomoso: Having provided generations of improvisors with inspiration and support, guitarist John Russell's Mopomoso meetings are now in jeopardy due to the Covid-19 crisis. By Philip Clark
Invisible Jukebox: Moor Mother × Rasheedah Phillips: The Black Quantum Futurism duo test each other's mettle via The Wire's mystery record selection
Global Ear: Our regular column from around the world continues to report on the varied experiences of and responses to the Covid-19 crisis. This month: views from Manchester and Warsaw
Nour Mobarak: Sensual wordplay with the experimental vocalist. By Jennifer Lucy Allan
Wendy Eisenberg: Layered songs of isolation from the guitarist and improvisor. By Frances Morgan
Thiago Nassif: The Brazilian artist's songcraft blends social critique and danceability. By Russ Slater
Epiphanies: Rhodri Davies
Loads and loadso of reviews in Soundcheck and The Boomerang.
Print Run: Playing For Keeps: Improvisation In The Aftermath edited by Daniel Fischlin & Eric Porter; The Bloomsbury Handbook Of Sound Art by Sanne Krogh Groth & Holger Schulze; The Book: The Autobiography Of Hans-Joachim Roedelius by Hans-Joachim Roedelius; The Voice In The Headphones by David Grubbs; The Many Faces Of Harry Beckett by John Thurlow; Glitter Up The Dark: How Pop Music Broke The Binary by Sasha Geffen; Ornette Coleman: The Territory And The Adventure by Maria Golia
On Screen: Serdar Kökçeoğlu Mimaroğlu: The Robinson Of Manhattan Island; Paul Hegeman That Pärt Feeling: The Universe Of Arvo Pärt
trrrrt
Medium: Magazine
Related Products