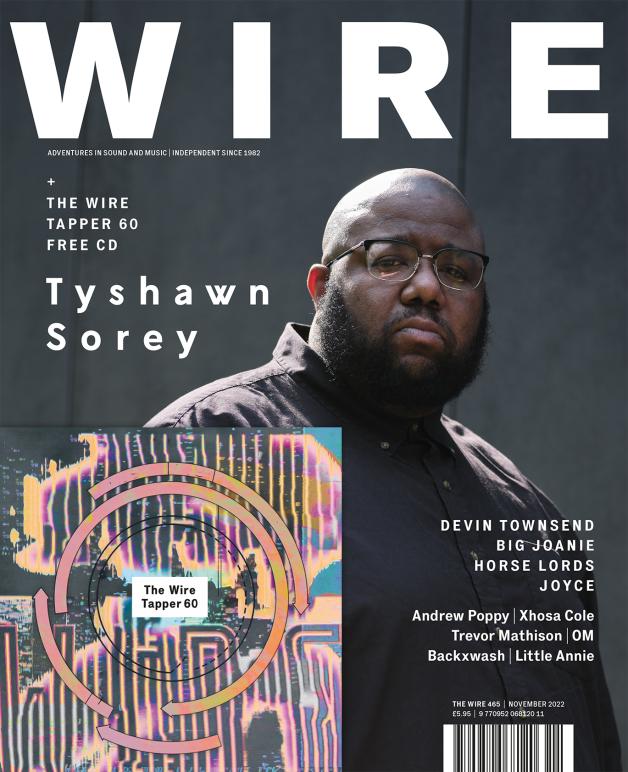 The Wire - # 465
With the legendary tapper CD on top! On the cover: genre straddling polymath Tyshawn Sorey. Who unifies improvisation and composition into his own rigorous and powerful sense of expression. By Stewart Smith. Plus: Black Composers: After a century of racist and Eurocentric marginalisation, the AACM and others forged new strategies for creative experimentation. By Paul Steinbeck
Devin Townsend: The Canadian studio wizard gets emotional with synaesthetic prog pyrotechnics. By Joseph Stannard
Joyce: After facing industry sexism and blacklists, the Brazilian singer-songwriter is back on her own terms. By Joshua Minsoo Kim
Horse Lords: The Baltimore noise rock quartet gallop through a panoply of tunings and philosophical ideas. By Dan Wilson
Invisible Jukebox: Big Joanie: Will the UK feminist punk trio want to take The Wire's mystery selection Back Home? Tested by Leah Kardos.
Andrew Poppy: Wobbly words and mischief from the erstwhile ZTT composer. By Leah Kardos
Backxwash: The Zambian-Canadian producer returns with a cathartic album of horror rap. By Emily Pothast
Xhosa Cole: Birmingham saxophonist illumines the words behind the rhythm makers. By Francis Gooding
Camille Émaille: French percussionist and improvisor gets into the flow of the natural environment. By Clive Bell
Print Run: Identity Pitches by Stine Janvin & Cory Arcangel; Desperado: An Autobiography by Tomasz Stańko with Rafał Księżyk; The Guitar Circle by Robert Fripp; Bone Music by Stephen Coates; 69 Exhibition Road: Twelve True-Life Tales From The Fag-End Of Punk, Porn And Performance by Dorothy Max Prior; Listening After Nature by Mark Peter Wright; Rap Capital: An Atlanta Story by Joe Coscarelli; Sun Ra: Art On Saturn: The Album Cover Art Of Sun Ra's Saturn Label by Sun Ra, edited by Irwin Chusid & Chris Reisman
Soundcheck: 33, The Advisory Circle, Siavash Amini & Eugene Thacker, Suzi Analogue, Vicente Hansen Atria, Badge Époque Ensemble, Belbury Poly, Björk, Mykki Blanco, The Bug, John Carpenter/Cody Carpenter/Daniel Davies, Cindytalk, William Fowler Collins, Lucrecia Dalt, Dez Dare, Dead Cross, Dungen, Trevor Dunn's Trio-Convulsant, Enablers, Brian Eno, Christoph Erb/Magda Mayas/Gerry Hemingway Trio, Faxed Head, Gamardah Fungus, Lori Goldston, Catherine Graindorge featuring Iggy Pop, Great Waitress, High Castle Teleorkestra, Robyn Hitchcock, Horse Lords, Leech, Charles Lloyd, Max Loderbauer, Maral, Trevor Mathison, Nicole Mitchell & Fabio Paolizzo, MonoNeon, Gloria de Oliveira & Dean Hurley, Pauline Oliveros & James Ilgenfritz, OM, Open Mike Eagle, Jessica Pavone/Lukas Koenig/Matt Mottel, Pumpkin Witch, Horatiu Radulescu, Safety Trance, Laila Sakini, Eryk Salvaggio, Senyawa + Lawrence English/Aviva Endean/Peter Knight/Helen Svoboda/ Joe Talia, Wayne Shorter/Terri Lyne Carrington/Leo Genovese/Esperanza Spalding, Paul G Smyth/John Wiese, The Soft Pink Truth, Special Interest, Carl Stone, Sun Ra Arkestra, Lewis Taylor, Titan To Tachyons, Tess Tyler, Tom Ward/Cath Roberts/Olie Brice/Johnny Hunter, Wench, Various Luke Schneider Presents Imaginational Anthem Vol XI: Chrome Universal – A Survey Of Modern Pedal Steel, Various Sounds To Make You Shudder!
The Boomerang: Brian Auger, Julie Driscoll & The Trinity, Bergisch-Brandenburgisches Quartett, David Blue, Can, Cheval De Frise, Dead Kennedys, Arnold Dreyblatt & Paul Panhuysen, Gnawa Music Of Marrakesh, Këkht Aräkh, Dickie Landry, Main Source, Pavement, Prolapse, Tintern Abbey, Max Tundra, Mal Waldron, Lawrence Weiner & Dickie Landry, Various Bound For Hell: On The Sunset Strip
Medium: Magazine
Related Products