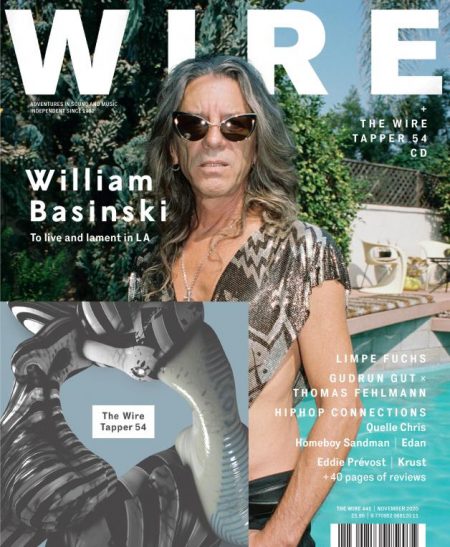 The Wire - # 441
This issue includes the widely praised Tapper CD compilation with cherry-picks from exciting and upcoming musicians.
William Basinski: The rock 'n' roll animal of ambient music talks disintegration, memory, punk and process as he prepares to release an elegiac new album. By Dan Barrow
Limpe Fuchs: For 50 years, the German self-made instrumentalist and improvisor has been building new worlds of sound out of unexpected objects. By Frances Morgan
Homeboy Sandman and friends: A plethora of interconnected personalities and projects in the US rap scene are looking inward, Homeboy Sandman's new album Don't Feed The Monster being the latest example. By Mosi Reeves
Invisible Jukebox: Thomas Fehlmann × Gudrun Gut:The first couple of German electronic music subject each other to The Wire's mystery record selection
Petr Válek: The anarchic Czech turns junk into gold. By Miloš Hroch
Steph Richards: The US trumpeter is to be sniffed at. By Phil Freeman
Molchat Doma: The power of dour in Belarus. By Ilia Rogatchevski
Tatsuhisa Yamamoto: Japanese percussionist goes off beat. By James Hadfield
Unlimited Editions: Noa Records
Unofficial Channels: Sounds Of The Forest
Global Ear: Our regular column continues to report on music in the time of pandemic. This month: long distance collaborations, and New York street performances
The Inner Sleeve: Krust on Genesis's The Lamb Lies Down On Broadway
Epiphanies: Eddie Prévost questions the controlling conventions of Western music after the revelations of bebop and improv
Plus, as usual, many many reviews of records, books, films, exhibitions and events.
Medium: Magazine
Related Products