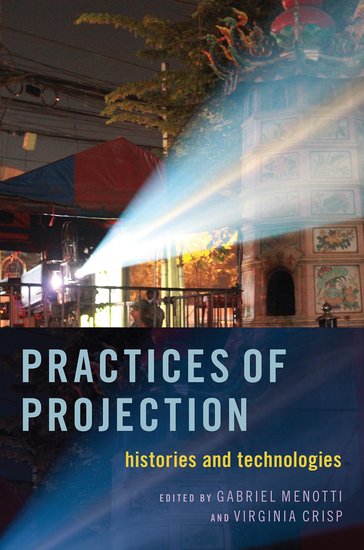 Gabriel Menotti and Virginia Crisp - Practices of Projection
To many, the technological aspects of projection often go unnoticed, only brought to attention during moments of crisis or malfunction. For example, when a movie theater projector falters, the audience suddenly looks toward the back of the theater to see a sign of mechanical failure. The history of cinema similarly shows that the attention to projection has been most focused when the whole medium is hanging in suspension.
Editors Gabriel Menotti and Virginia Crisp address the cultural and technological significance of projection. Throughout the volume, chapters reiterate that projection cannot, and must not, be reduced to its cinematic functions alone. Borrowing media theorist Siegfried Zielinksi's definition, Menotti and Crisp refer to projection as the "heterogeneous array of artefacts, technical systems, and particularly visual praxes of experimentation and of culture." From this, readers can understand the performative character of the moving image and the labor of the different actors involved in the utterance of the film text. Projection is not the same everywhere, nor equal all the time. Its systems are in permanent interaction with environmental circumstances, neighboring structures, local cultures, and social economies. Thus the idea of projection as a universal, fully autonomous operation cannot hold. Each occurrence of projection adds nuance to a wider understanding of film screening technologies.
Virginia Crisp is Lecturer in Cultural and Creative Industries at King's College, London.
Gabriel Menotti is Lecturer in Film Editing and Multimedia at the Federal University of Espírito Santo, Brazil. He operates as an independent curator engaged with different forms of cinema and unstable media.
Paperback, published in 2020, 312 Pages, 52 photographs
Table of Contents:
1. Situating Projection
Gabriel Menotti Gonring and Virginia Crisp
Part 1. PROJECTION HISTORIES & GEOGRAPHIES
2. A New 'Wild West' of Projection?
Michael Pigott and Richard Wallace
3. The craft of the rural cinema operator: improvised exhibition and the Highlands and Islands Film Guild, Scotland (1946-71)
Ian Goode
4. Solar Powered Cinema and Sustainable Projections
Stefania Haritou
5. Film Projection and the Sacred Geography of Site-Specific Cinema in Contemporary Thailand
Richard MacDonald
Part 2. PROJECTION ELEMENTS & TECHNOLOGIES
6. Six (or seven) ways of looking at a magic lantern slide
Richard Crangle
7. Between Copyright and Creativity: Edison's Kinetoscope and Technological Innovations in Optical Printing
Amanda Egbe
8. '…It's all just a little bit of History repeating': Slide-tape's key works in the UK since the 1970s
Mo White AKA Dr. Mary C White
9. Summoning the Ghosts of Early Cinema and Victorian Entertainment: Kate Moss and "Savage Beauty" at the V&A Museum
Su-Anne Yeo
10. Researching virtual, augmented and mixed realities, or how the Elastic 3D Spaces project emerged from an outdoor projection event
Anthony Head and Leila Sujir
11. They'll take whatever you feed them – reflections on projection in live audiovisual performance
Cornelia Lund
Part 3. PROJECTION AS KNOWLEDGE & INTERPRETATION
12. CASTING – investigation of projection mapping's spatiality in a continuum of projected moving-image art
Yiyun Kang
13. Projection between exhibition and information: experimental and artists' film at Sonsbeek 71
Adeena Mey
14. Bark and Butterflies: Projection, Post-Memory and Phantasmagoria
Adrian Palka
15. Imagistic Projection as Relational Becoming
Andréia Machado Oliveira & Felix Rebolledo Palazuelos
Medium: Book
Related Products