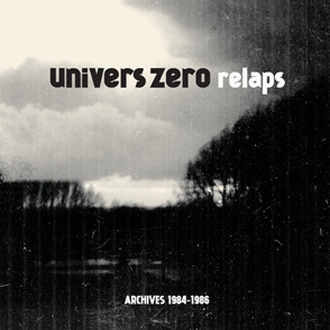 Univers Zero - Relaps
This mythic Belgian avant-garde band was formed in 1974 and have continued to change and grow and develop over their entire career, while still keeping a ensemble sound and spirit that is easily recognizable. Led by drummer/composer Daniel Denis, their line-up changed many times but  their overall sound remained fairly consistent.
This 2LP documents the period 1984-1986, and features Daniel Denis, Dirk Descheemaeker, Christian Genet, Andre Mergenthaler, Jean-Luc Plouvier, Michel Delory, Patrick Hannapier and Andy Kirk.
Side 1
01 Presage 9'57
02 Parade 7'55
Side 2
03 L'etrange mixture du Docteur Schwartz 4'03
04 Ligne Claire (extract) 3'48
05 Emanations 12'26
Side 3
06 Heatwave 8'36
07 L'etrange mixture du Docteur Schwartz (free style) 4'31
Side 4
08 The Funeral Plain 17'52
Medium: 2LP
Related Products