Out of stock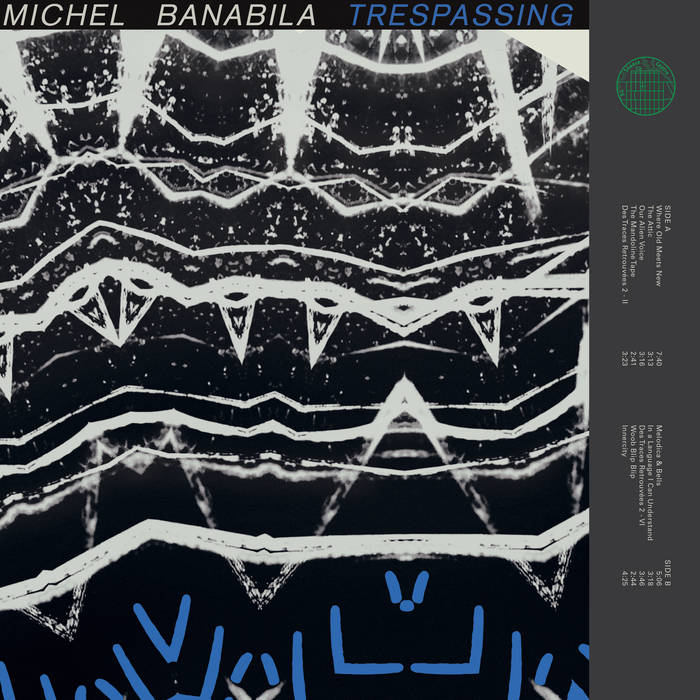 Michel Banabila - Trespassing / Marilli
Second reissue of his earlier works.
LP 1 compiles material written over the last 20 years or so, acting as a bridge between work made during his years in an Amsterdam squat and his contemporary practice, taking in slanted tribal rhythm trips, finely sculpted ambient wormholes.
LP 2 is Banabila's debut album Marilli [1983} is an odd one, that even the maker has mixed feelings about.. specially because he used samples from various world records without thinking of crediting the singers and players. it's a DIY take on Eno and Byrne's My Life In The Bush Of Ghosts that charmingly sounds like that classic record, but much more lo-fi and frayed around the edges, as though half recollected from a heavy LSD trip.
LP 1: (compilation) Trespassing
A1. Where Old Meets New (2017)
A2. The Attic (1987)
A3. Our Alien Voice (2016)
A4. The Mandolin Tape (1987 / 2017)
A5. Des Traces Retrouvées 2 – A II (1985)
B1. Melodica & Bells (2016)
B2. In A Language I Can Understand (2009)
B3. Des Traces Retrouvées 2 – B II (1985)
B4. Woob Blip Blip (2016)
B5. Innercity (2007)
Banabila : percussion, voice FX, melodica, bass, DX7, Omnisphere synth, Ensoniq EPS 16+, Logic sampler, text to speech, electric guitar, field recordings.
Willem Cramer: mandolin on A4.
Cok van Vuuren: steel guitar on A4.
Cecil Wespel: bass on B3.
Olaf Keus: percussion on B3.
Vocal on B3: unidentified singer.
B3 recorded by Peter Hoeks.
Sampled contribution by Salar Asid (violin snippets on B2).
A5 & B3 used with kind permission by Trichord.
LP2: Marilli
Banabila : Korg MS20 , ARP Solina strings, percussion, mbira, turntable, tape, balafon, acoustic guitar, mexican turtle flute, Yamaha CP70, voice, banjo, acoustic guitar, xylophone.
Cecil Wespel : bass (C1, D2, D3, D4).
Piet Lichtveld : electric guitar (C2, D5).
Lesley Joseph : steelpan. (C2, D5).
Atti Bauw : electric guitar (D4).
Paul Newsum : electric guitar, percussion (C5).
Willem de Melker : drums (D2).
Martijn Veldhoen : percussion (D4).
Niek Stafleu : cello (D2).
Rita Kuppens : voice (haiku on D2)
Voice on C2 by an unidentified Indonesian singer (taped). Voice on D5 by an unidentified African singer (taped). Voice on D4 by an unidentified Arabic singer (taped, pitched).
Originally published by Eduard Vingerhoets in 1983. This reissue also includes a download code.
Medium: 2LP
Related Products