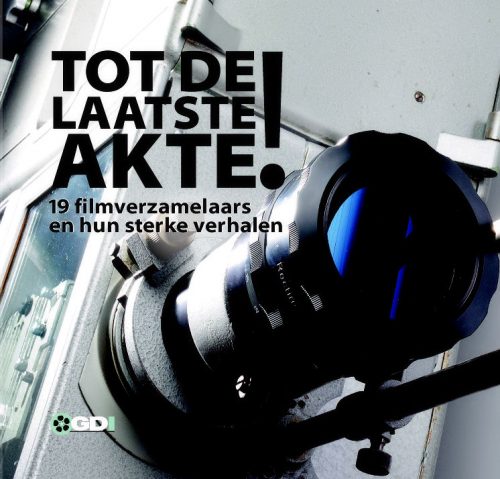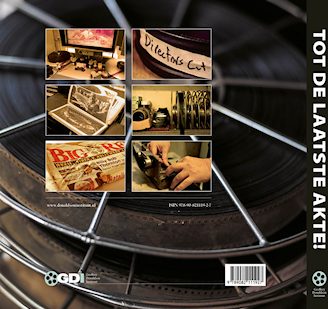 Barend de Voogd en Marjolein Ansink - Tot De Laatste Akte! – 19 Filmverzamelaars en hun Sterke Verhalen
Tot de Laatste Akte! (in Dutch) geeft een levendige schets van de bonte, tot nu toe goed verborgen gebleven wereld van de Nederlandse filmverzamelaars. Fotografe Marjolein Ansink en journalist Barend de Voogd portretteren een twintigtal van deze enthousiastelingen die thuis film draaien en fanatiek op zoek zijn naar films die daarmee voor de vernietiging behoed worden, van 8mm tot laserdiscs. Een rijk geïllustreerd (meer dan 600 foto's, 228 pagina's), sjiek uitgevoerd boek (gebonden, met stofomslag en leeslint).
De negentien filmverzamelaars die in Tot de Laatste Akte! worden geportretteerd hebben veel gemeen. De meesten hebben een thuisbioscoopje laten bouwen, soms in hun huis, soms in een schuur. Over het algemeen zijn het wat oudere mannen — het zijn meestal mannen — die het verzamelvirus al jong opliepen. Ze weten nog welke film ze voor het eerst zagen en waar dat was. Het merendeel noemt Laurel & Hardy, ook Disney-animatiefilms komen vaak voorbij. Films die ze later als vanzelf gingen verzamelen.
De meeste filmverzamelaars hebben een specialiteit. De een houdt van slapstick en animatie, de ander van film noir en musicals. Weer anderen zweren bij Panavision-breedbeeldfilms of soundies: muziekfilmpjes met vaak zwarte artiesten.
Initiatiefnemer van het boek is directeur van het Geoffrey Donaldson Instituut (GDI) Egbert Barten, die ook zelf wordt geïnterviewd.
About the Donaldson Institute (Editor of the book)
The Geoffrey Donaldson Institute, based in The Netherlands, was founded on 29 November 2013. Its objective is to promote research into film production, film screenings and cinema culture. The Institute manages an extensive collection of films, books, pictures, posters and archive material which it makes available through a library and other research facilities. The Institute wishes to promote film culture and cinephilia by means of exhibitions and publications and to facilitate third-party publications in the field of film history and cinema.
Medium: Book
Related Products