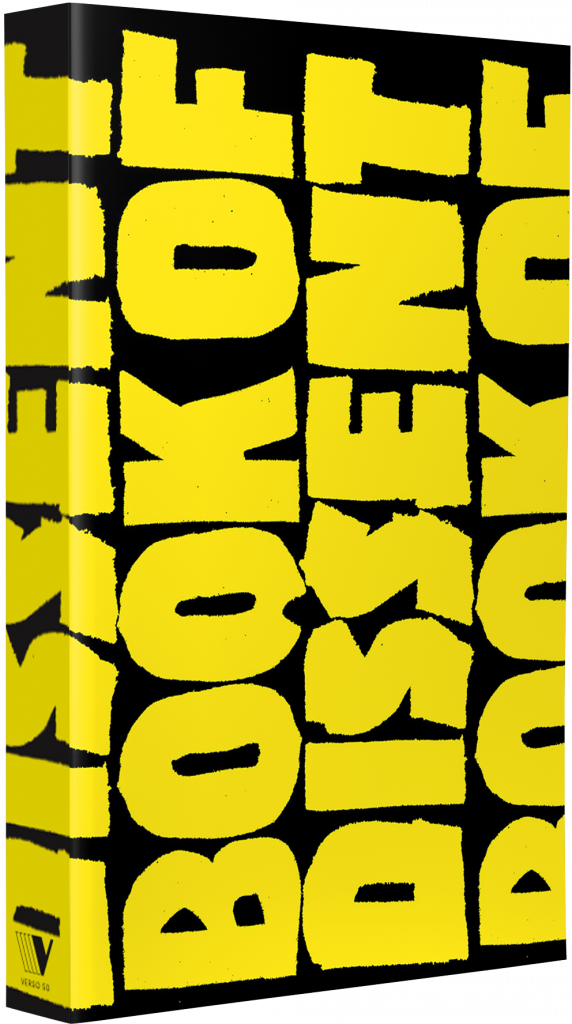 Andrew Hsiao and Audrea Lim (Editors) - The Verso Book Of Dissent
Revolutionary Words from Three Millennia of Rebellion and Resistance
An anthology of quotes and excerpts to commemorate Verso's 40th anniversary.
Throughout the ages and across every continent, people have struggled against those in power and raised their voices in protest—rallying others around them or, sometimes, inspiring uprisings many years later. Their echoes reverberate from Ancient Greece, China and Egypt, via the dissident poets and philosophers of Islam and Judaism, through to the Arab slave revolts and anti-Ottoman rebellions of the Middle Ages. These sources were tapped during the Dutch and English revolutions at the outset of the Modern world, and in turn flowed into the French, Haitian, American, Russian and Chinese revolutions. More recently, resistance to war and economic oppression has flared up on battlefields and in public spaces from Beijing and Cairo to Moscow and New York City.
This anthology, global in scope, presents voices of dissent from every era of human history: speeches and pamphlets, poems and songs, plays and manifestos. Every age has its iconoclasts, and yet the greatest among them build on the words and actions of their forerunners. The Verso Book of Dissent should be in the arsenal of every rebel who understands that words and ideas are the ultimate weapons.
Verso Books is a publishing house based in London and New York City, founded in 1970 by the staff of New Left, and originally known as New Left Books. Tariq Ali, who wrote this book's preface, was one of the central authors for Verso from the early days.
Paperback, published in 2020, 416 pages.
I've just selected some chunks from the huge list of quotes below, just so you can get an idea:
ca. 1800 BCE: Anonymous
ca. 700 BCE: Hesiod
ca. 590 BCE: Sappho
ca. 522 BCE: Herodotus
ca. 500s BCE: Sumangalamata
ca. 415 BCE: Thucydides
399 BCE: Plato
ca. 300 BCE: Qu Yuan
ca. 200 BCE: Thiruvalluvar
ca. 100 BCE: Anonymous
ca. 95 BCE: Sima Qian
63 BCE: Sallust
ca. 83 CE: Tacitus
ca. 150: Spartacus
[…]
1845: Friedrich Engels
1848: Karl Marx and Friedrich Engels
1849: Henry David Thoreau
1850: Alexander Herzen
1850: Walt Whitman
1851: Sojourner Truth
1852: Frederick Douglass
1852: Elizabeth Oakes Smith
1855: Santhal Rebellion
1855: Muktabai
1856: Du Wenxiu
1858: Tanyus Shahin
1858: Rani Lakshmibai
1859: John Brown
1860: Giuseppe Garibaldi
1865: Ira Steward
1866: Mikhail Bakunin
1867: Sitting Bull
1870: Julia Ward Howe
1871: Paris Communards
1871: Paris Communards
1871: Victoria Woodhull
1875: Sioux Warriors
1876: Susan B. Anthony
1876: Wenya Boatman
1877: Joseph A. Dacus
1879: Heinmot Tooyalaket
1880: Robert Ingersoll
1882: Tarabai Shinde
1883: Jamal Ad-Din Al-Afghani
1884: Lucy Parsons
1880s: Nguyen Quang Bich
1885: Louis Riel
1886: Anna Julia Cooper
1887: José Rizal
1887: Louis Lingg
1887: Wong Chin Foo
1888: Anonymous
1890: Antonio Maceo
[…]
1911: Emiliano Zapata
1911: Emma Goldman
1911: Helen Keller
1911: William "Big Bill" Haywood
1912: Lawrence Strikers
1912: Mother Jones
1913: Black Women's Protest
1914: Emmeline Pankhurst
1914: Ito Noe
1914: Mekatilili Wa Menza
1914: James Connolly
1914: Anonymous
1915: Rosa Luxemburg
1915: Alfred Bryan
1915: Clyde Workers' Committee
1915: Joe Hill
1915: William Blake
1916: Easter Rising
1917: Randolph Bourne
1917: V. I. Lenin
1917: Mohammed Abdulla Hassan
1918: Sidney Webb
1918: Lu Xun
1918: Tristan Tzara
1918: Eugene Debs
1918: Garegin Pasdermajian
1918: John Maclean
1919: Rabindranath Tagore
1919: John Reed
1919: Eugen Leviné
1919: Chen Duxiu
1919: Claude Mckay
1919: Hubert R. Harrison
1920: Alexandra Kollontai
1920: Ho Chi Minh
1920: W. A. Domingo
1920: Li Dazhao
1920: Wadi Al-Bustani
1920: Al-Kinana
1920s: Vera Figner
1920s: Abdukhaliq "Uyghur"
1920: Revolutionary War Council of the Persian Red Army
1921: Kronstadt Rebels
1922: Kazi Nazrul Islam
1922: Sen Katayama
1924: Huda Shaarawi
1924: Vladimir Mayakovsky
1925: Nguyen An Ninh
[…]
2013: Chelsea Manning
2013: Edward Snowden
2014: Joshua Wong
2014: Ursula K. Le Guin
2015: Berta Cáceres
2015: Bree Newsome
2016: Colin Kaepernick
2016: Rezpect Our Water
2016: Chanel Miller
2017: Las Tesis
2017: Ni Una Menos
2017: Behrouz Boochani
2018: Yellow Vests Movements
2019: Alaa Salah
2019: Varun Grover
2019: Greta Thunberg
Medium: Book
Related Products