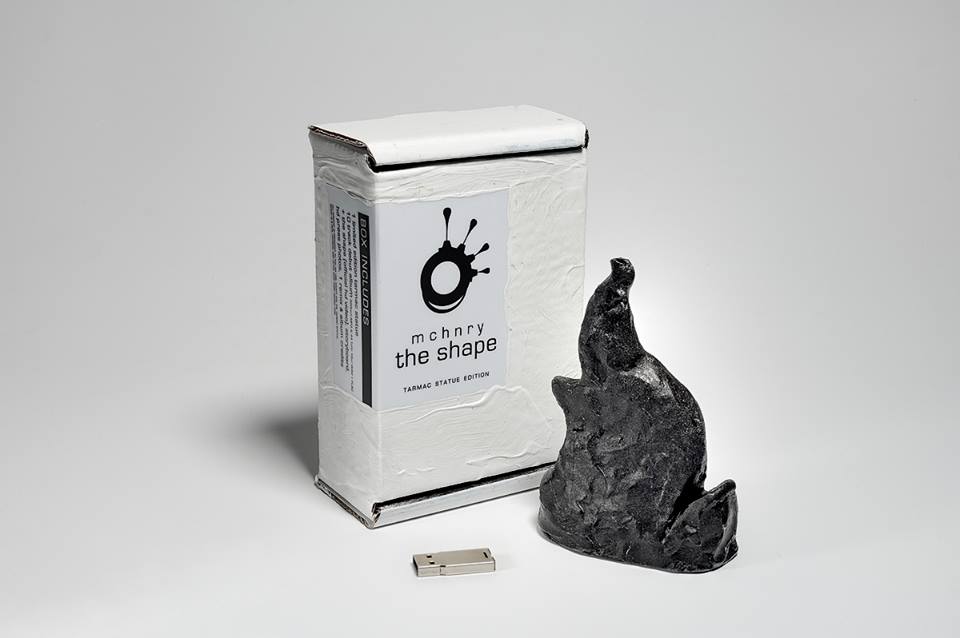 MCHNRY - The Shape
MCHNRY is the duo of Arnold Kooij and Levi van Huygevoort from Tilburg. They're amazing on record, but live even more because of Levi's intense drawing/painting performance. In both forms, they're electric, edgy and powerful.
So on Record Store Day 2016 they presented their first full-length album, follower-up to their vinyl EP 'The Shape'. Typically for them they did not go for a regular format, but made a multiple art object which is highly collectable! Don't think about this for too long because they don't come in big numbers.
It's a small sculpture, made of tarmac (or asphalt) in a hand-decorated box.  On a USB drive you'll find the 10 track debut album in mp3, wav and flac formats. It also contains the official video & storyboard for 'The Shape', press photography and a remix.
Tracklist:
1. Refill (feat. Koko Cohen)
2. The Shape
3. The Bandager (feat. Marzj)
4. Draw A Blank
5. VOID
6. abORIGINAL (feat. Daan Taks)
7. The Earth Is A Spaceship
8. Punk Rock
9. Supersoaker Brain
10. Hollow Mountains
11. Punk Rock (Koko Cohen Remix)
Medium: Art Object
Related Products