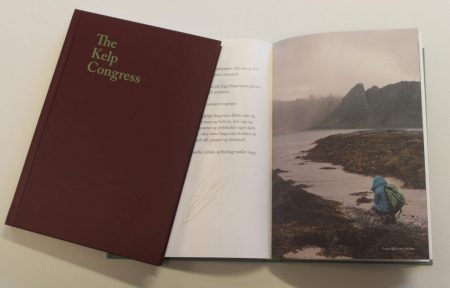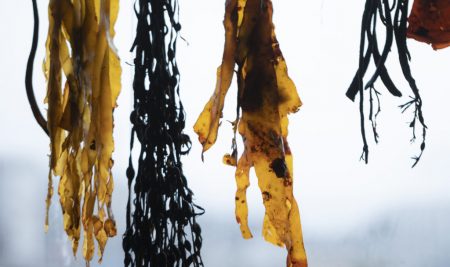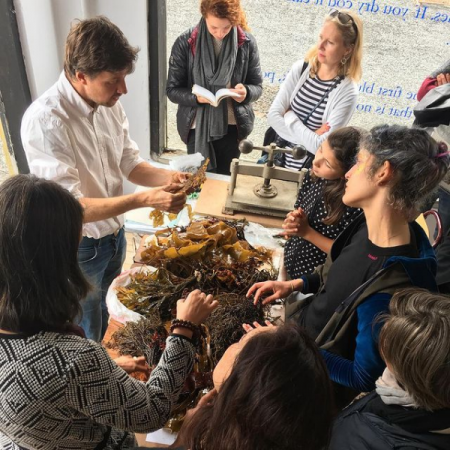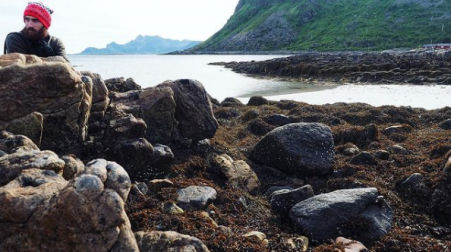 Various Authors - The Kelp Congress
Kelp..? That's right, seaweed! There was a week-long Kelp Congress at LIAF, an international art festival in Norway based in the Lofoten Archipelago in 2019. It focused on the lesser explored artistic and cultural dimensions related to kelp and other macroalgae. What is going on in terms of industries of energy, food, nutrition, agriculture, cosmetics, and medicine, how about current and future ecological and environmental discussions on it, and how are artists responding via performative, narrative, conceptual, and material approaches?
This book assembles artworks, essays, photographs, poems, stories, and other writings that contribute to the recent interest in kelp and seaweed within contemporary art and thinking. The book forages for the insights that emerge through spending time together with these ecologies, revealing their inherent and entangled values.
The book covers a range of approaches for 'thinking through' and working with kelp and seaweed in ways that are contra to extractivist mentalities, and the treatment of macroalgae as a resource to be exploited by humans. By striking a balance between play, discovery, concern, and care, the book invites curious and interested readers to consider companionships and collaborations with the living materials of these other-than-human-communities, and to examine the cultural, narrative, and artistic properties that connect us to these special lifeforms.
Contributions by: Aoife Casby, Devil's Apron, Robin Everett, Tiina Arjukka Hirvonen, Janna Holmstedt, Øyvind Novak Jenssen, Signe Johannessen, Signe Lidén, Julia Lohmann, Janice McEwen, Arjen Mulder, Astrida Neimanis, Michael Pantalos, Julia Parks, Viktor Pedersen, Marietta Radomska, Francisco Trento, Danni Zuvela, Cecilia Åsberg
Edited by Hilde Methi, Neal Cahoon and Annette Wolfsberger
148 pages, hardcover, published by NNKS (North Norwegian Art Centre)
Here's a more detailed overview of the book's contents:
The collection opens with Cecilia Åsberg, Janna Holmstedt, and Marietta Radomska's advocation of feminist post-humanities approaches towards coexistent living – thoughts which are extended in practical terms through the collaborative architecture, spa-making, and beer brewing practices of Devil's Apron in Intertidal Shelter part I & II. Janice McEwen's collection of writings, Stories that Stick, then describes a series of encounters with kelp along different coastlines in Ireland and New Zealand.
Robin Everett's Ancestrula, considers themes of collective breath, social action, and the processes of attunement to the rhythms of the tides through the prism of the tiny bryozoan communities that harness the structure and material of kelp. This is a topic that is extended through a conversation between Signe Lidén and Arjen Mulder, who discuss the pluralities of the intertidal zone, the patterns of coastal actions, and the forms of rhythm that connect cellular movements to the celestial forces of the sun and the moon.
For a series of practical collaborations, we then turn to the insights shared by Julia Parks in her descriptions of her experiments working with seaweed as a developing agent in the filmmaking process. Danni Zuvela's Gathering is an uncanny and poetic reminder of connectedness through nutrients cycles, and the provision of oxygen that links seaweed and human beings. Nutrition is also explored in concrete terms through the recipes of Øyvind Novak Jenssen, where food and fermentation become invitations to ingest and digest with kelp.
In the second half of the book, Signe Johannessen's musical score from Høysang til tang og tare / Song of Praise for Kelp and Seaweed is presented, together with additional images from the artist's Kelp Medal of Honour performance during LIAF 2019 – a work recognising the role of the kelp communities that sheltered the artist's relatives in the intertidal zone during the Second World War. From here, notions of interspecies touch, consent, and fear are playfully approached in Tiina Arjukka Hirvonen's text and drawings, while, through a reflective account of experience, Francisco Trento's Kelp Spillages discusses 'prototyping' in relation to the social processes of knowledge discovery, production, and sharing through various settings and formats. This topic of 'sharing' is explored further through Julia Lohmann's Sea Ceremony, depicting the communal aspects and emergent discussions and thoughts that took place on the kelp during the 2019 edition of Lofoten International Art Festival. Viktor Pedersen's Songs of the Uncontained then introduces the mysterious figure of 'Talluz' and its attempt to forge interspecies communication with 'the land creatures'.
The final section of the book opens with Astrida Neimanis's essay, So Tired, the Sea …. Inspired by the sea otters who anchor themselves in kelp when they go to sleep, Neimanis puts forward a rich and timely vein of discussion that considers the exhaustion of bodies of water, the pace of life within the contemporary moment, and the universal need for rest. Aoife Casby's 'creative word map', A Word For …, draws attention to both the inadequacy of nouns, and to the vividness of experience throughout the intertidal zone through its listing and hypnotic repetitions. As the collection concludes, Lofoten's coastal kelp forests are revealed through video stills from underwater drone footage in the Blueye Log from Napp by Michael Pantalos.
Medium: Book
Related Products