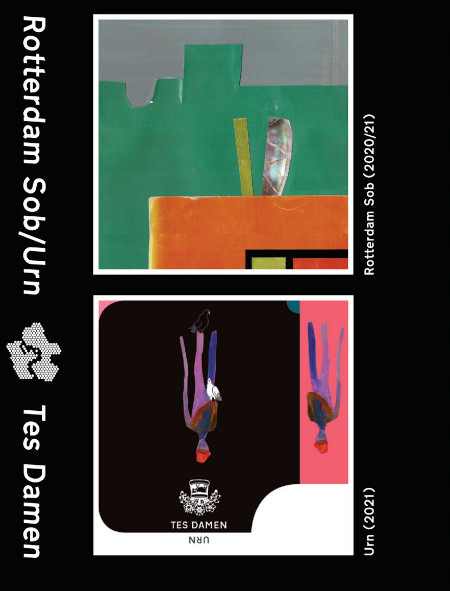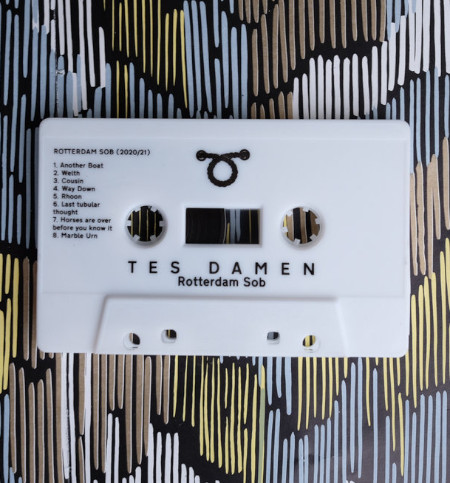 Tes Damen - Rotterdam Sob & Urn
An Englishman in Rotterdam, Tes Damen made no less than 2 debut albums in 2020 and 2021 which are now united on one cassette. Eccentric songs, repeating guitar riffs as mantras, skewed drumming, ticklish and charming throughout!
The Englishman himself describes his double album as follows:
"Counterfeit, wrongly worded and ill with time; the two albums have this in common … Both reference the harbour and its capitalist goings on.
Rotterdam Sob (tracks 1-9) is an album that has changed over time from a melancholic ambient album towards a more upbeat and sober affliction mimicking the tongues of the harbour, and reflecting on the life and towns along its length. The album has a cut-up quality refusing any disciplinary coherence and wanting coherence so much.
Urn (tracks 10-16) is a faster paced album. Apoco Bocht, the heaviest track over the two albums, was written and performed by Tracy Hanna (Difficult, The Postpeople).
Other tracks are much more abstract in intention, and take cues from landscapes and happenings. Leading to a more machine led landscape. This album seems more like an immune response to Rotterdam and the harsh landscape that is present and that circumstances have delivered Tes Damen here."
1. Another Boat 04:43
2. Welth 01:29
3. Cousin 02:40
4. Way Down 02:27
5. Rhoon 03:00
6. Last tubular thought 02:19
7. Horses are over before you know it 02:18
8. Marble Urn 03:31
9. The Hull Two 00:49
10. and 04:55
11. Harbour Wall 04:43
12. Apoco Bocht 03:04
13. Strange 06:36
14. Sep (live at Pernis) 05:49
15. Tes out the city 05:28
ROTTERDAM SOB
Raluca Croitoru – Drums on 1 & 4
Tracy Hanna – Vocals on 5
Nico Ditch – Vocals on 2-8
Tes Damen – Everything else
Album Cover by Tes Damen
URN
Tracy Hanna – Vocals on 3 & 4 / Lyrics on 4
Nico Ditch – Vocals on 3, 5 & 6
Tes Damen – Everything else
Artwork by Aubane Berthommé Martinez
Medium: Music Cassette
Related Products