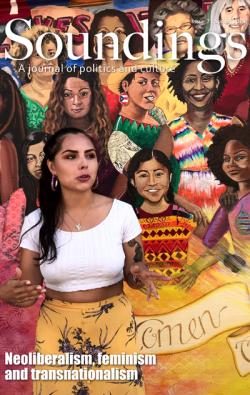 Soundings - Issue 71 (Spring 2019): Neoliberalism, Feminism and Transnationalism
The essays in this special issue attest to the multiplicities of neoliberal practice across the globe, and to the ways in which aggressive neoliberal marketisation impacts differently across different axes.
Main contents:
– Editorial by Alison Winch, Kirsten Forkert and Sally Davison
– Feminising our revolutions – by Sara C. Motta
– A feminist analysis of neoliberalism and austerity policies in the UK –  by Ruth Pearson
– #MeToo and the prospects of political change – by Catherine Rottenberg
– Neoliberal feminism in Africa – by Yemisi Akinbobola
– The fight against sexual violence – by Alison Phipps
– Transnational feminism and the post-2015 development agenda – by Awino Okech and Dinah Musindarwezo
Conversations with Stuart Hall
– Michael Rustin: Is there an alternative to reactionary modernisation?
– John Harris: Disorganised capitalism
– Ash Sarkar: What do migrants represent?
– Brazil, now – by Liv Sovik
Medium: Magazine
Related Products