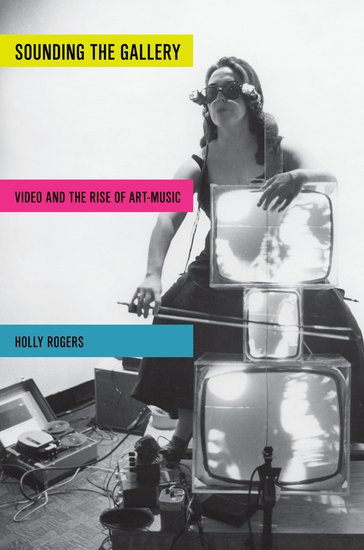 Holly Rogers - Sounding The Gallery – Video And The Rise of Art-Music
Sounding the Gallery explores the first decade of creative video work, focusing on the ways in which video technology was used to dissolve the boundaries between art and music. Via theories of intermedia, film, architecture, drama and performance practice, an interdisciplinary history evolves that culminates in the rise of video art-music in the late 1960s, shifing the focus from object to spatial process.
Becoming commercially available in the mid 1960s, video quickly became integral to the intense experimentalism of New York City's music and art scenes. The medium was able to record image and sound at the same time, which allowed composers to visualize their music and artists to sound their images in a quick and easy manner. But video not only provided artists and composers with the opportunity to produce unprecedented forms of audiovisuality; it also allowed them to create interactive spaces that questioned conventional habits of music and art consumption. Early video's audiovisual synergy could be projected, manipulated and processed live. The closed-circuit video feed drew audience members into the heart of the audiovisual experience, from where they could influence the flow, structure and sound of the video performance. Such activated spectatorship resulted in improvisatory and performative events in which the space between artists, composers, performers and visitors collapsed into a single, yet expansive, intermedial experience.
Many believed that such audiovisual video work signalled a brand-new art form that only began in 1965. Using early video work as an example, this book suggests that this is inaccurate. During the twentieth century, composers were experimenting with spatializing their sounds, while artists were attempting to include time as a creative element in their visual work. Pioneering video work allowed these two disciplines to come together, acting as a conduit that facilitated the fusion and manipulation of pre-existing elements.
Table of Contents:
Introduction
1 Composing with Technology: The Artist-Composer
2 Silent Music and Static Motion: The Audio-Visual History of Video
3 Towards the Spatial: Music, Art and the Audiovisual Environment
4 The Rise of Video Art-Music: 1963-1970
5 Interactivity, Mirrored Spaces and the Closed-Circuit Feed: Performing Video
Epilogue: Towards the Twenty First Century
Index
Published in 2013, paperback, 256 Pages, 32 photographs.
Medium: Book
Related Products