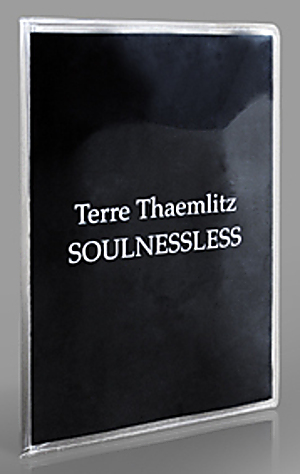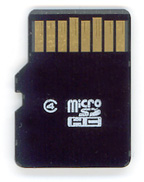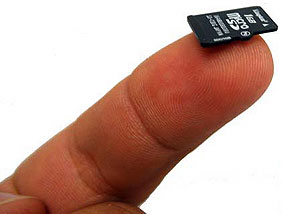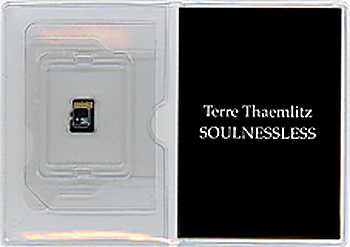 Terre Thaemlitz - Soulnessless
The World's Longest Album in History.
It took Terre four years to produce this massive work. Terre also highlights it as 'the first full-length MP3 Album' because of the maximum length <4GB 320kB/s stereo MP3 file "Meditation on Wage labor and the Death of the Album" (edited duration: 29hr. 42min. 30sec. 53msec./3.984217739664GB). When combined with the other audio files in this album, the total length exceeds 32 hours.
Dominant themes in the complete work are a sharp criticism of Religion, and reflections on Labour.

So, what happens when you plug this in? The content of the card is easy to navigate. The main body of music is the CANTO V mentioned above, which is a long solo piano piece. The other CANTOS, insofar we can judge at this moment, are more electro-acoustic, meditative, with much use of field recordings: religious chanting, prayers etc. from convents all over the world.
The film 'Soulnessless' is quite good; it's a collage of found footage and animation with again an intrigueing soundtrack.
The pdf files contain a useful body of theoretic reflections and a large amount of photographs.
CANTO I
ROSARY NOVENA FOR GENDER TRANSITIONING
CANTO II
TRAFFIC WITH THE DEVIL
CANTO III
PINK SISTERS
CANTO IV
TWO LETTERS
CANTO V
MEDITATION ON WAGE LABOR AND THE DEATH OF THE ALBUM
Bonus material:
REMIXES BY DJ SPRINKLES & K-S.H.E
80 minutes of new video material (MP4) in English, fully translated into individual video files for Bulgarian, French, German, Italian, Japanese, Polish, Portuguese, Russian and Spanish.
Over 150 pages of English text and images (pdf), with key sections translated into Bulgarian (65 pages), French (61 pages), German (65 pages), Italian (63 pages), Japanese (117 pages), Polish (65 pages), Portuguese (64 pages), Russian (65 pages) and Spanish (64 pages).
All this filling an entire 16GB microSDHC card for Mac and Windows. You can also get a card reader for 5,00 euro here.
Medium: Micro SD Card
Related Products