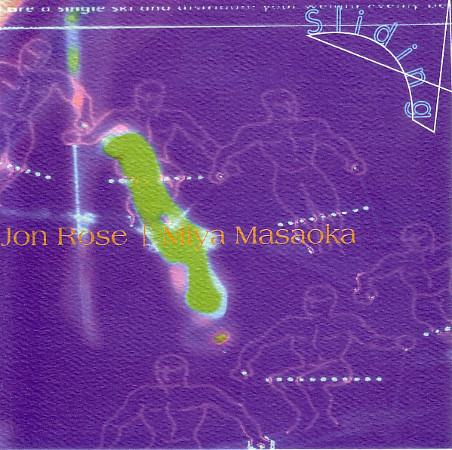 Jon Rose and Miya Masaoka - Sliding
Jon Rose:Koto Prepared (cymbals, Paper, Rubber, Plastic)], Koto [Bowed], Koto [Amplified].
Miya Masaoka: Musical Bow [Interactive Midi Bow], Musical Bow [Amplified Bow], Sampler [Samples].
'Sliding' is a duo session recorded there in a single day of October 1996. Rose's modified bows (including his interactive MIDI bow) conjure up a wide array of sounds, some of which are impossible to trace back to a string-related source. On the other hand, Masaoka's prepared kotos always retain a certain essence of their tradition, no matter how deeply modified they are. She allies Kazue Sawai's musicianship with Brett Larner's spirit of innovation. She obtains simple but highly effective sounds, like the cymbal stroke sound punctuating "Uneven Weight." Listening to Sliding, one quickly puts the mechanics aside to focus on the interactions between the two improvisers. They connect most of the time, creating demanding pan-cultural music. Whenever Rose fiddles more with his sampler than his violin, things become cluttered and lose their sense of direction — he throws ideas too quickly to allow Masaoka to propose anything more than background plucking. This is true of "Falling" particularly. Special mention goes to the opener, "Powder and Glory," "Balanced," and the highly electrified "Outside Arms" — that one is simply mesmerizing. This involves clever reversing of the stereo image from one track to the next keep the listener guessing who plays what.
According to François Couture.
Medium: CD
Related Products