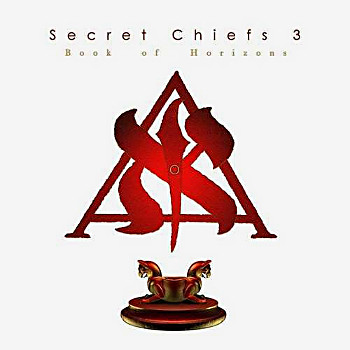 Secret Chiefs 3 - Book of Horizons
Album from 2004, licensed from Web of Mimicry. Beyond psychedelia, beyond experimentalism, and beyond classification. The Secret Chiefs 3 here divide into seven individual and distinct bands.
One band (Ishraqiyun) incorporates multi-ethnic, instrumentation for an acultural, neo-Pythagorean enterprise into heavy electro-folk (helped in the journey by the seasoned and soulful playing of Eyvind Kang, Shahzad Ismaily, Ches Smith and others); while the rocking, suprasensory surf band UR (with full orchestra!) bloodies up the waters. John Merriman (Cephalic Carnage) and Unhuman keep the ultra-death metal grind band (the Holy Vehm) well within the zone of utter punishment. Forms, a crickety old wooden band-organ playing themes echoing down from the Angelic Pleroma, is a band that specializes mainly in funeral music; the Electromagnetic Azoth engages in extremes of polytonal and pan-harmonic through-composition montage forms — peculiar to the outer fringes of Western music — and does so in order to re-unite these shadowy techniques to their ultimate Source; and the Traditionalists assume the role of visionary guidance from the ghostly voices of a recently bygone-era.
Hordes of musicians and instrumentation (22 players in all) — real, not sampled– including saz, rabab, mridangam, dhol, esraj, sarangi, orchestral percussion, male and female choir, violin, viola, cello and contrabass, harp, bowed saw, santur, ghatam, clavinet, organs, electroacoustic treatments, guitar, bass, drums.
Medium: 2LP
Related Products