Out of stock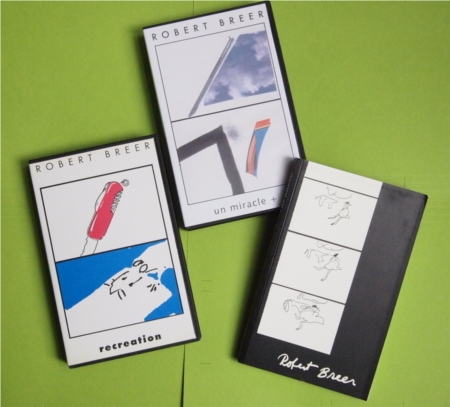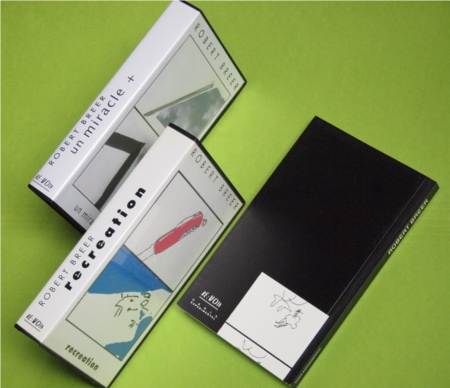 Robert Breer - Un Miracle+ / Recreation
Two VHS tapes published in 2006 with classic animated shorts, in colour as well as black & white, brimming with nimble humor in a joyful variety. Also included is a 140 page book with in-depth study about the work of Breer in English and French, texts by Christian Lebrat and Pip Chodorov, edited by Jennifer L. Burford.
"A founding member of the American avant-garde, Breer was most well-known for his films, which combine abstract and representational painting, hand-drawn rotoscoping, original 16 mm and 8 mm film footage, photographs, and other materials. His aesthetic philosophy and technique were influrenced by an earlier generation of abstract filmmakers that included Hans Richter, Viking Eggeling, Walter Ruttman, and Fernand Léger, whose work he discovered while living in Europe.
He started making his first abstract experimental films while living in Paris from 1949 to 1959, a period during which he also showed paintings and kinetic sculptures at galleries such as the renowned Galerie Denise René.
Format: VHS PAL.
Tape 1 – Un Miracle +
Un Miracle (1954, color, 40″)
Eyewash (1958-59, color, 2'10"
Pat's Birthday (1962, b/w, 13′)
Fist Fight (1964, color, 8'35")
66 (1966, color, 6'10")
70 (1970, color, 4'25")
Gulls and Buoys (1972, color, 7'05")
Z. (1979, color, 7'56")
ATOZ (2000, color, 5'24")
What Goes Up (2003, color, 4'46")
Tape 2 – Recreation
Form Phases IV (1954, color, 3'30")
Recreation (1956-57, color, 2′)
A Man and His Dog Out for Air (1957, b/w 3′)
Jamestown Baloos (1957, b/w & color, 6′)
Blazes (11961, color, 3′)
Fuji (1974, color, 10′)
LMNO (1978, color, 10′)
Swiss Army Knife with Rats and Pigeons (1980, color, 6′)
Bang ! (1986, color, 8′)
Time Fliues (1997, color 5′)
Medium: VHS
Related Products