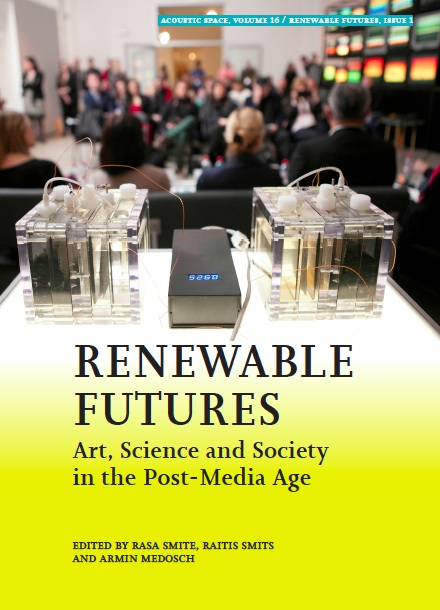 Rasa Smite, Raitis Smits, Armin Medosch (eds.) - Renewable Futures – Art, Science and Society in the Post-Media Age
This is Volume 16 of RIXC's Acoustic Space periodical, published on the occasion of their exhibition of the same title. RIXC is an internationally known Center for New Media Art in Riga. With this issue they started a new series of Acoustic Space, dedicated to exploring the transformative potential of art in the post-media age. This book has selected papers from the first Renewable Futures Conference, aimed at shaping new contact zones between traditionally separated domains – art and science, academic research and independent creative practices, sustainable businesses and social engagement in the 21st century.
The first chapter highlights the role of technology, considering "technopolitics" as a very profound perspective for the contextualisation of an art practice in the current phase of society. The second chapter introduces the notion of "contemporary conditions" and discusses theories and practices of "post-media", "post-internet" and other "posts". The third chapter looks at artistic engagement with different fields of science, ecological issues and interspecies relations, while the fourth chapter discusses yet another role which artists have been active in – partaking in collecting and coding, manipulating and retransmitting processes. The closing section includes an overview of the Fields exhibition (Riga 2014), a large-scale post-media manifestation, jointly curated by Armin Medosch, Rasa Smite and Raitis Smits.
Authors and contributors: Domenico Quaranta, Martha Buskirk, Miško Šuvaković, Dieter Daniels, Andreas Broeckmann, Geoff Cox, Jacob Lund, Ieva Astahovska, Karla Brunet, Oksana Chepelyk, Edith Doove, Gabriela Galati, Julian Hanna, Lisa Jevbratt, Normunds Kozlovs, AnneMarie Maes, Conor McGarrigle, Armin Medosch, Jennifer no.e Parker, Daniela de Paulis, Helena Sederholm, Ilva Skulte, Rasa Smite, Raitis Smits, Vygandas "Vegas" Šimbelis, Isidora Todorović, Polona Tratnik and Fields Exhibition artists.
Publisher:
RIXC
/ ISBN: 9789934843464
Medium: Book
Related Products