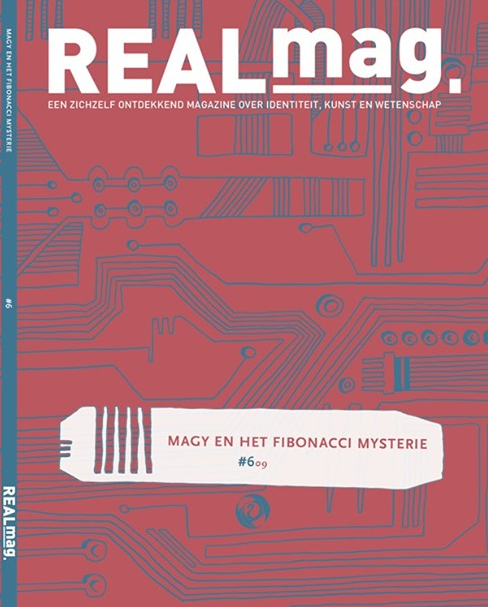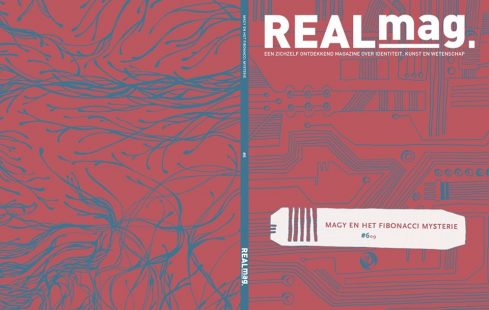 REALmag. - # 6: Magy En Het Fibonacci Mysterie
Dutch language periodical that is more than simply a magazine. They keep reinventing themselves, and each issue is the result of a multi-phased research and design process based on a theme relevant to both science and the arts. This issue, hot off the press, took about a year in the making and evolves around Science Fiction, Artificial Intelligence and Robotics.
Important thread in the publication is a fiction story told from the perspective of Magy, a 20-year old born in 2018. The artwork throughout the magazine comes from Trompette De La Mort, a designer duo based in Rotterdam. Interviews with professor in philosophy Jos de Mul, AI-researcher and cognitive psychologist Joost Broekens, professor in artificial cognitive systems Marcel van Gerven, theologist and games expert Frank Bosman, AI-lawyer Rob van der Hoven van Genderen and the director of sex robot manufacturer Mytenga. Also featuring cyber artist Jacco Borggreve. Exquisite design and print, metallic ink and all!
111 pages bursting with unorthodox thinking and phantasizing about where humanity is going to. Let's hope we will reach 2038 in the end..
Medium: Magazine
Related Products