Out of stock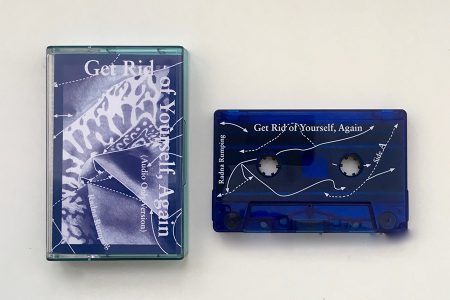 Radna Rumping - Get Rid Of Yourself, Again
'Get Rid Of Yourself, Again' is an audio essay written and recorded by Radna Rumping, writer, sound and radio artist from Amsterdam). It's about presence and absence, visibility and invisibility and the (im)possibilities of a fluid identity. Digital self-presentation, the hidden messages of a patterned Vlisco fabric, a lost brother, camouflage make-up and the different strategies of artists Adrian Piper, Bernadette Corporation and musician Gary Wilson all claim their own role in a slowly unfolding narrative.
Voices: Iván Martínez López, Raeywn Martyn, Lúcia Prancha and Radna Rumping.
Including fragments of music by: Hiroshi Yoshimura, Ryuichi Sakamoto, Wally Badarou, Mica Levi & Oliver Coates, Dean Blunt, James Ferraro, Beatrice Dillon & Rupert Clervaux, Gary Wilson and Alain Neffe.
Limited edition of 75, design by Iván Martínez López.
Medium: Music Cassette
Related Products