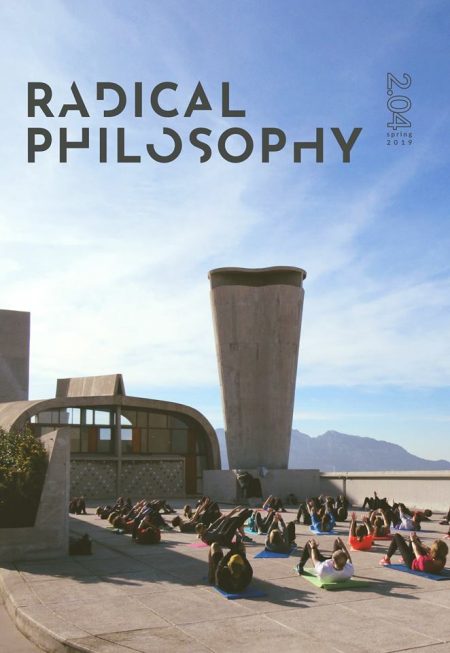 Radical Philosophy - 2.04
Happy to see the Radical Philosophy back in print – took me a while before I found out though…
Contents:
Laboratories of gender
Women's liberation and the transfeminist present  by D-M Withers
Late style and contrapuntal histories
The violence of representation in Jean-Luc Godard's Le Livre d'image   by Alex Fletcher
'By contraries execute all things'
Figures of the savage in European philosophy   by Alberto Toscano
Interview: Critical Theory's contexts of cooperation   – Oskar Negt and Johan F. Hartle
Is logos a proper noun?
Or, is Aristotelian Logic translatable into Chinese?
Yijing Zhang
Dossier: Social Reproduction Theory
Reviews
Pascal Chabot, Global Burnout – by Hannah Proctor
Asad Haider, Mistaken Identity: Race and Class in the Age of Trump – by Samir Gandesha
Giorgio Agamben, What is Philosophy? and Taste – by Jae Emerling
Nathan Brown, The Limits of Fabrication: Materials Science, Materialist Poetics – by Daniel Katz
Janina Wellmann, The Form of Becoming: Embryology and the Epistemology of Rhythm – by Nick Lambrianou
Jeff Love, The Black Circle: A Life of Alexandre Kojève – by Jorge Varela
David Sosa, ed., Bad Words: Philosophical Perspectives on Slurs – by Heather Stewart
Stefanie R. Fishel, The Microbial State: Global Thriving and the Body Politic – by Chris Wilbert
Alfie Bown, The Playstation Dreamworld – Mike Watson
Cohen and Duckert, eds., Veer Ecology: Companion for Environmental Thinking – Alice Gibson
117 pages in total.
Medium: Magazine
Related Products