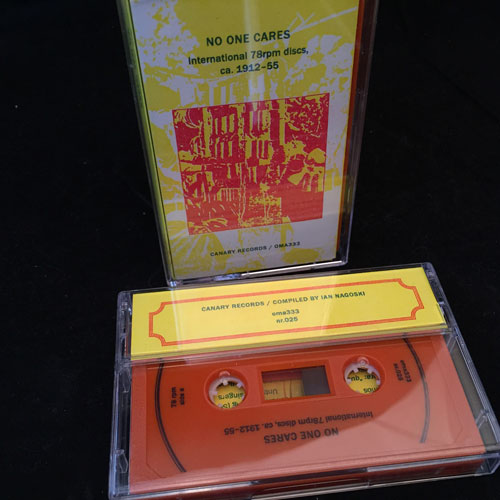 Various Artists - No One Cares
International 78 rpm Discs, ca. 1912-55.
A stunning selection of beautiful performances from all corners of the planet. Japan to Iran, Columbia to India, Greece to Cuba and beyond. Expertly compiled by Ian Nagoski of Canary Records; most of these tracks haven't previously been reissued; "seven were used on the CDR-only release "Uncollected Records." The rest were used in various lectures & presentations given ca. 2010-13 and made available here for the first time."
19 tracks in total, with for instance various songs by Seneca, Sioux and Yaqui indians,  yodeling by Die Gebruder Moser, and an exciting Syrto Kikladitiko by Kostas Papagikas…
120 dark-orange tapes with black body printing, with covers masterfully risographed by Risiko Press in Antwerp.
Medium: Music Cassette
Related Products