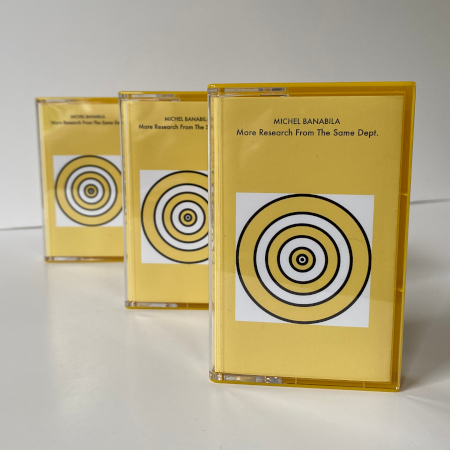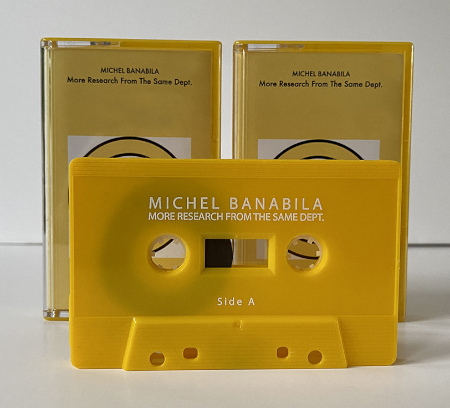 Michel Banabila - More Research From the Same Dept. (Tape Reissue)
Because he loves tapes so much, and because many of us still consider this their favourite Banabila, here is a re-release of the album from 2014 on a small hand-numbered batch of cassettes.
"On More Research from the Same Dept., Banabila is vigorously searching for the heart and soul of electrical machinery, like an explorer presenting his discoveries. He places himself in the background… letting the machines tell their own story. There is no thriving beat to guide you this time. Instead, you'll be immersed into manipulated and layered sounds of fluorescent tubes, humming fridges and plug interferences."(Ambientblog, Peter van Cooten) Banabila used EXS24 sampler, ring thing modulator, Korg Monotribe and Monotron, Michael Norris plugs, Pulsaret software, Omnysphere soft synth, Kaoss pad and Logic Pro for this outing.
The tape has 1 extra previously unreleased track on side A called "Kafka Remix" (..intriguing). Includes unlimited streaming via Bandcamp plus download. Also included two exclusive Tapu postcards.
Tracks (1-10 as download, 9 and 10 are on the tape):
1. Cricket Robotics 05:08 video
2. More Research From The Same Dept. 01:57
3. The Magnifying Transmitter 05:02
4. A Giant Cyborg And Tiny Insect Drones 04:31
5. Alien World 04:58
6. Tesla's Lab 06:45
7. Sunbeams 06:00
8. Cryptography 05:12
9. Tape mix Side A 22:16
10.Tape mix Side B 22:08
Medium: Music Cassette
Related Products