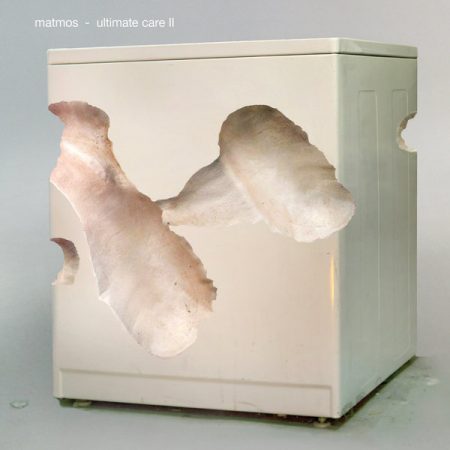 Matmos - Ultimate Care II
Matmos are unique, I love them! The duo, now residing in Baltimore, of M.C. Schmidt and Drew Daniel, are rumoured for their unconventional take on "non-musical" sound sources, like surgical operations or micro organisms. In this project they revealed the inner thoughts of the washing machine, and an exploded view of it, as depicted on the album cover.
Ultimate Care II finds Matmos at their most minimal, focussed and even danceable. They involved other artists like Dan Deacon, Max Eilbacher (Horse Lords), Jon "Wobbly" Leidecker, and Duncan Moore, asking them to join in the deconstruction of the machine.
The 38 minute piece (split over two sides) imperceptibly alternates between recordings of the machine in normal operation to processed, concrète passages, and being rubbed, stroked and beaten up by a battery of hands and objects.
"In the digits of smart DJs, certain sections could be used as deadly, high-energy dancefloor tools, whilst its tumultuous arrangement also lends itself to closer listening." (Boomkat)
Medium: LP
Related Products