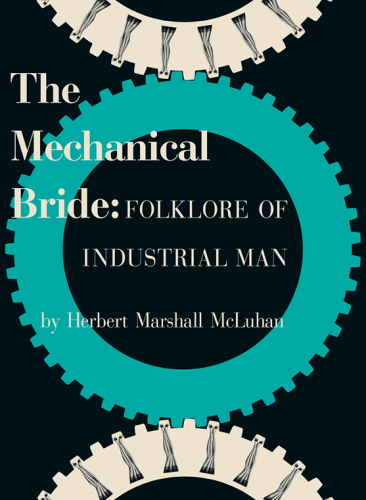 Marshall McLuhan - The Mechanical Bride: Folklore of Industrial Man
In 1951 The Mechanical Bride appeared for the first time, written by a person who we came to know as the greatest pioneering philosopher of media studies. McLuhan can still hold his own with his sharp and biting analysis of mass-media culture and the popular arts. To illustrate his point he chose a selection of what now seems blatantly calculating advertisements, comic strips and other visuals from the 1940s and 1950s, and stripped them bare in amusing texts full of satire and irony. The various ideas and concepts introduced in the commentaries provide positions from which to examine the 'exhibits', fifty-nine in all. Each section has a short title and between three and five introductory questions that act as probes, with the added advantage that the reader may pick and mix.
Mass Media
When MacLuhan speaks of the "folklore of industrial man", he refers to the stupendous influence of mass media on the ideas and habits of modern man. The Mechanical Bride reads like an old-fashioned social etiquette book, while, in fact, it is filled with conventions that we have long ceased to question. "Society begins to take on the character of the kept woman whose role is expected to submission and luxurious passivity. Each day brings its addition of silks, trinkets, and shiny gadgets, new pleasure techniques and new pills for pep and painlessness".
Medium: Book
Related Products