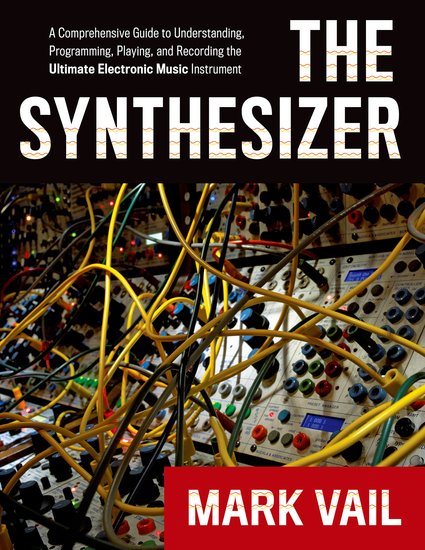 Mark Vail - The Synthesizer
A Comprehensive Guide to Understanding, Programming, Playing, and Recording the Ultimate Electronic Music Instrument.
Veteran music technology journalist, educator, and performer Mark Vail tells the complete story of the synthesizer: the origins of the many forms the instrument takes; crucial advancements in sound generation, musical control, and composition made with instruments that may have become best sellers or gone entirely unnoticed; and the basics and intricacies of acoustics and synthesized sound.
Vail also describes how to successfully select, program, and play a synthesizer; what alternative controllers exist for creating electronic music; and how to stay focused and productive when faced with a room full of instruments. This one-stop reference guide on all things synthesizer also offers tips on encouraging creativity, layering sounds, performance, composing and recording for film and television, and much more.
Published in 2014, 432 pages, over 371 illustrations, 279 x 216 mm
Includes a companion website.
Table of Contents:
Foreword by Michelle Moog-Koussa
Trendsetting All-Stars
Acoustics & Synthesis Basics
Real-World Acoustics
Types of Synthesis
Audio Sources: Oscillators, Noise, & More
VCAs, Envelopes, & LFOs
Envelope Followers & Pitch-to-Voltage Converters
Filters
EQs & Filter Banks
Analog Sequencers
Arpeggiators
Reverb
Analog Delay
Digital Delay
Loopers
Other Effects
Choosing Your Synthesizer(s)
What's Your Budget?
Musical Tastes & Goals
Hardware vs. Software
Portability & Power
Programmability: Pros & Cons
Expandability
As Others Have Done
Perspective
Modular Synthesizers in the 21st Century
An Overview
Modular Synth Shopping
More on Eurorack Modular
More on FracRak Modular
More on Serge Modular
Connectivity
Convincing Analog & MIDI Synths to Coexist
MIDI-to-CV Conversion
CV-to-MIDI Conversion
Controllers
Synths & Controllers with Keyboards
Alternative Controllers
Wind Controllers
Touch Controllers
Hand-Held Controllers
Struck Controllers
Controllers for Microtonal Tunings
Composition, Programming, & Performance Techniques
Composition
Scoring to Picture
Composing for Living Art
Following Through on a Thought
Sage Advice from a Master
Scoring with Intent, Even When Intimidated
Patching, a.k.a. Programming
Encouraging Synthesists' Creativity
When & How to Experiment with Sounds
The Good & Bad of Non-Programmability
Programming for Progress
Fun with Modular Synths
Layering Synth Sounds
Programming for Expression
Performance
Tools of the Trade
Dependence on the Tried & True, but Moving Forward
Modular Apparitions
Defying the Dependence on Visuals
Recording the Synthesizer
As It Was & How It's Become for the Switched-On Innovator
Serial vs. Random-Access Media
Strategies for Recording Film & TV Scores
Harnessing the Power of Modular Synths with Ableton Live
Automated Mixing
Outboard Processing: Preparing Audio for Recording
Recording Direct & Expanding for Surround-Sound
Appendix: Selected Bibliography, Museums & Films, Manufacturers, Blogs, Dealers & Stores
Index
Medium: Book
Related Products