Out of stock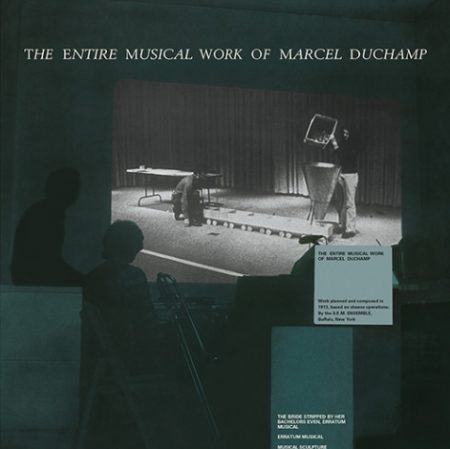 Marcel Duchamp - The Entire Musical Work of Marcel Duchamp
The S.E.M. Ensemble's 1976 recordings of four compositions written by the avant-garde artist mainly famous for his sculptures and conceptual art. These are probably the earliest examples of musical composition based on chance operation – later re-discovered by John Cage, and later still, by Brian Eno.
In 1976, William Lyon Lee, Petr Kotik, James Kasprowicz, and John Bondler's S.E.M. Ensemble were the first to undertake the recording of these compositions, some 50 years after they were conceived.
Using Duchamp's original scores and following a process involving a funnel, cork balls and a toy train to generate the order of notes, they realised the "unfinishable" 25:30min piece, The Bride Stripped Bare By Her Bachelors, Even. Erratum Musical as a light-headed play of Alto Flute, Glockenspiel, Trombone, Celeste and Marimbaphone, whilst Erratum Musical, originally written for three vocals – Duchamp and his two sisters – is perhaps cheekily sung by three blokes according to an arrangement plucked by chance, quite literally picking notes out of a hat.
There's also another version of The Bride Stripped Bare By Her Bachelors, Even. Erratum Musical, this time half as long and performed on Player Piano, plus the biggest treat of the record, a relatively short Musical Sculpture of filigree music box delights.
Tracks:
1. La Mariée Mise à Nu Par Ses Célibataires, Même. Erratum Musical 25:30
2. Voices: Erratum Musical 04:35
3. La Mariée Mise à Nu Par Ses Célibataires, Même. Erratum Musical 12:15
4. Musical Sculpture 04:46
Medium: LP
Related Products