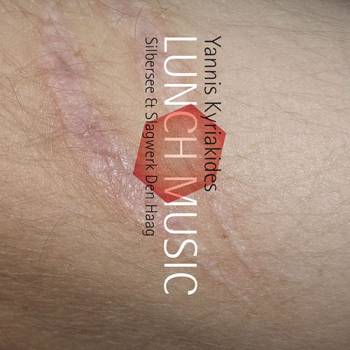 Yannis Kyriakides - Lunch Music
A set of pieces for voices, percussion and live electronics, inspired by the 1959 book Naked Lunch by William S. Burroughs. Featuring the great percussionists of Slagwerk Den Haag and the amazing  vocalists of Silbersee, all embedded in a rich sonic environment of electronics, modulated voices, grinding pulses and hallucinatory noises.
The concept of the music revolves around the idea of the polyphony of voices found in Naked Lunch. The effect of one voice speaking through another, of mediumship and possession, is a central musical concept in the piece, and it is manifested in the way the live electronics, controlled by the percussionists modulates the voices of the singers and the various fragments of samples heard: from the voice of Burroughs to snippets of 50s pop songs.
The piece, originally commissioned by Slagwerk Den Haag, was composed for the dance/music theatre piece of the same name, produced by Club Guy and Roni, Slagwerk Den Haag and Silbersee, that toured The Netherlands in the season 2013/2014 and 2016.
Medium: CD
Related Products