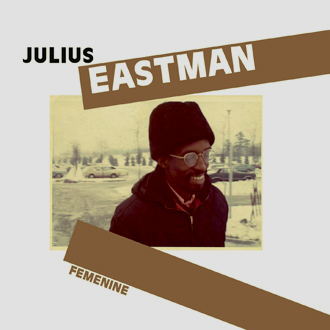 Julius Eastman - Femenine
In the 1970s and 1980s, Julius Eastman (1940-1990) was one of the very few African-Americans to gain recognition in the New York avant-garde music scene. But somehow he remained outside of the game. He was politically committed, a figure of queer culture and a solar and solitary poet whose melancholy influenced his genius as well as his tragic destiny : suffering from various addictions, declared missing, actually homeless. In the winter of 1981-82, he was evicted from his apartment by the police, who destroyed most of what he owned – including scores and recordings. He was found dead in 1990, on the streets of Buffalo, after years of vagrancy.
Femenine, from 1974, is a powerful composition and an example of how Eastman fused jazz-informed improvisation with the rigors of early, pulse-based minimalism. Eastman using a mechanical device that shakes sleigh bells for the entirety of the performance, can be read as both a Fluxus-style joke on the stark rhythmic processes of Philip Glass and Steve Reich, as well as an assumption of that sound into the overall Eastman palette.
This new recording, released in 2021, is a performance by ensemble 0 and Aum Grand Ensemble. Musicians:
Sophie Bernado – bassoon
Cyprien Busolini – viola
Melaine Dalibert – piano
Jozef Dumoulin – synthesizer
Céline Flamen – cello
Stéphane Garin – percussion
Ellen Giacone – voice
Jean-Brice Godet – bass clarinet
Amélie Grould – vibraphone
Alexandre Herer – keyboards, electronics
Julien Pontvianne – soprano saxophone
Christian Pruvost – trumpet
Medium: CD
Related Products