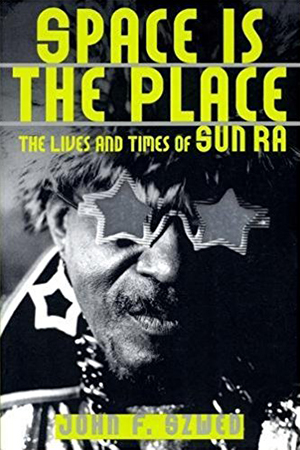 John Szwed - Space Is The Place: The lives and times of Sun Ra
One of America's most prolific and daring musicians, Sun Ra located himself in outer space, beyond both the geographical limits of the United States and the ideological limits of Jim Crow and the Cold War. His philosophy, a dynamic stew of esoteric spirituality, Egyptian cosmology, Black Nationalism and space age ruminations, earned Sun Ra a reputation as an Afro-eccentric charlatan-genius in the tradition of Marcus Garvey and Elijah Muhammad, and kept his"Arkestra" below the radar of concert halls and record companies. This biography charts Sun Ra's career, showing how he defied critics' periodization schemes, pioneering free jazz and electronic music in the 1940s and reviving big bands in the 1970s. Szwed presents Sun Ra's neoplatonic philosophizing as serious scholarship, however, rather than the charismatic myth-making and -unmaking that it clearly was.
This edition is from 1998, paperback, 496 pages.
John F. Szwed is Musser Professor of Anthropology, African-American Studies, Music, and American Studies at Yale University. He has written about music for TheVillage Voice, Vibe, the Boston Phoenix, and other publications. He lives in Connecticut.
Medium: Book
Related Products