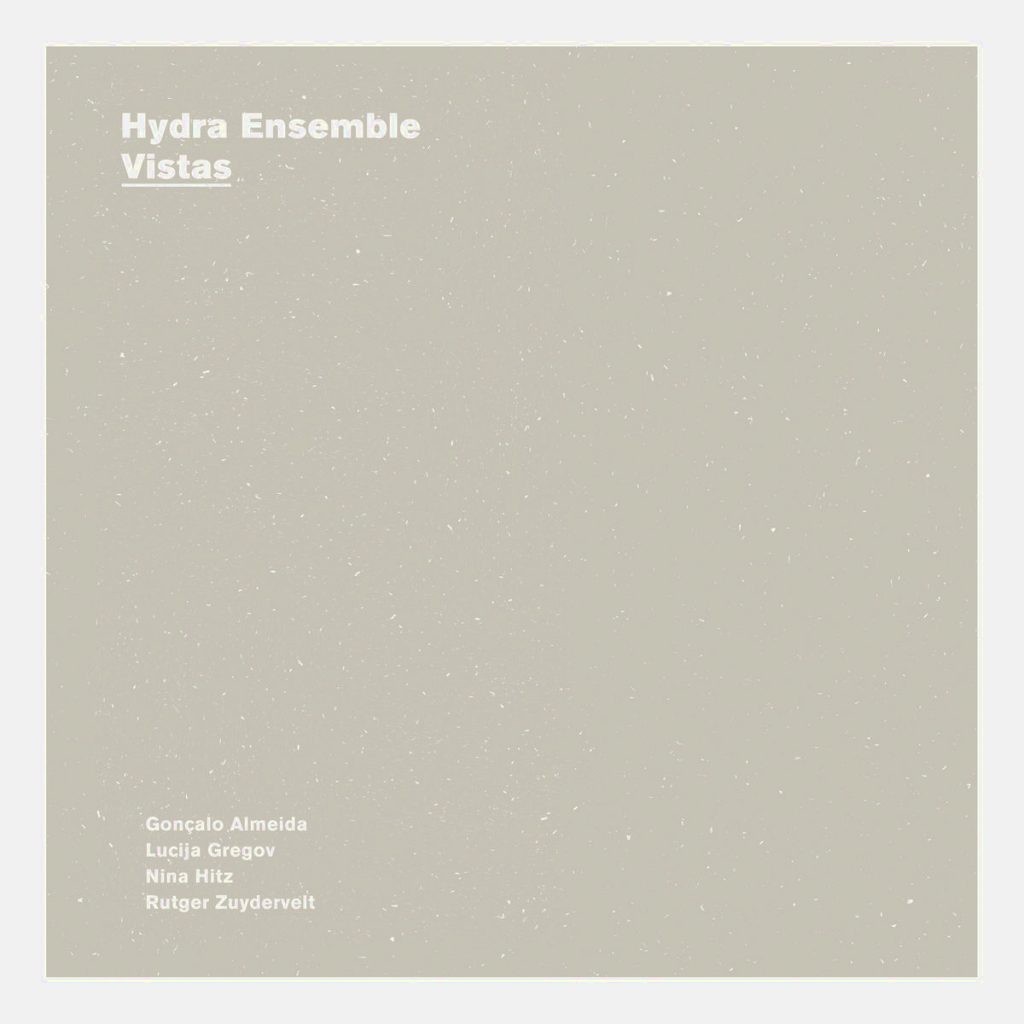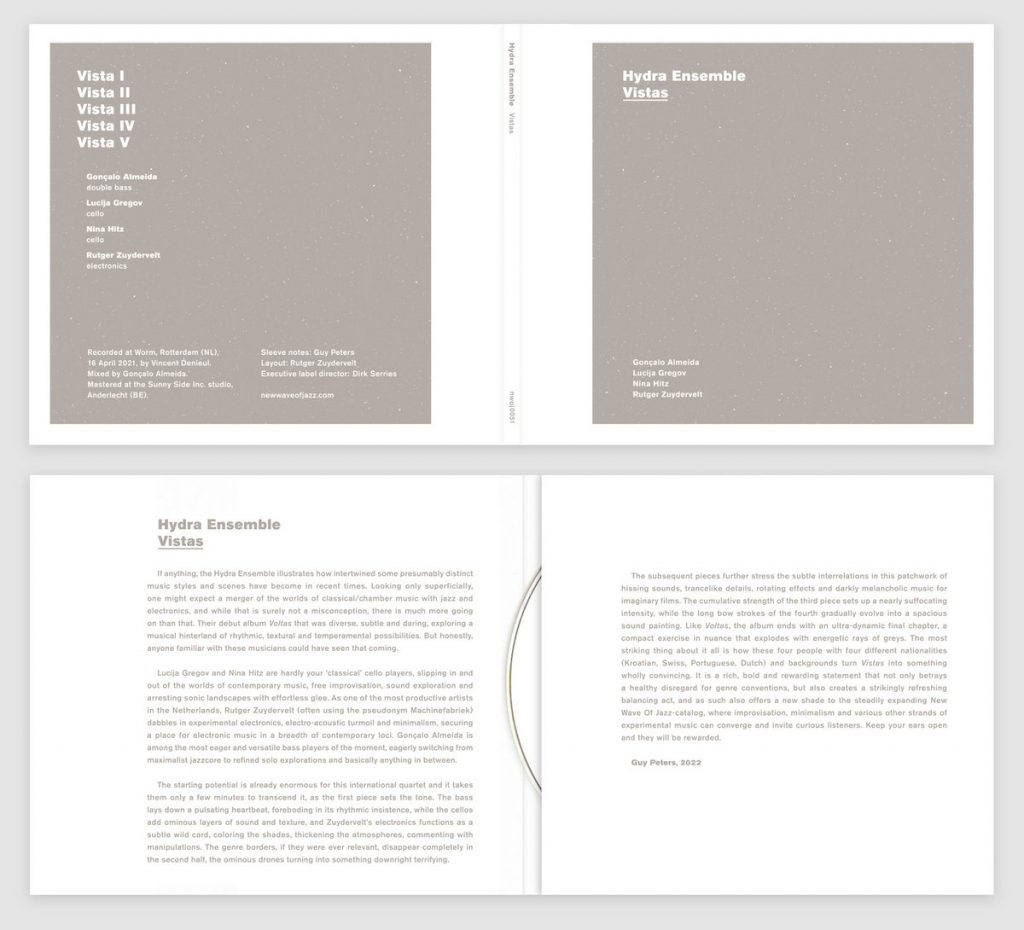 Hydra Ensemble - Vistas
Second album after their debut Voltas. Comes in a beautiful gatefold sleeve, designed by Rutger Zuydervelt. The accompanying notes by Guy Peters say it much better than I could ever do.
"If anything, the Hydra Ensemble illustrates how intertwined some presumably distinct music styles and scenes have become in recent times. Looking only superficially, one might expect a merger of the worlds of classical/chamber music with jazz and electronics, and while that is surely not a misconception, there is much more going on than that.
Lucija Gregov and Nina Hitz are hardly your 'classical' cello players, slipping in and out of the worlds of contemporary music, free improvisation, sound exploration and arresting sonic landscapes with effortless glee. As one of the most productive artists in the Netherlands, Rutger Zuydervelt (often using the pseudonym Machinefabriek) dabbles in experimental electronics, electro-acoustic turmoil and minimalism, securing a place for electronic music in a breadth of contemporary loci. Gonçalo Almeida is among the most eager and versatile bass players of the moment, eagerly switching from maximalist jazzcore to refined solo explorations and basically anything in between.
The starting potential is already enormous for this international quartet and it takes them only a few minutes to transcend it, as the first piece sets the tone. The bass lays down a pulsating heartbeat, foreboding in its rhythmic insistence, while the cellos add ominous layers of sound and texture, and Zuydervelt's electronics functions as a subtle wild card, coloring the shades, thickening the atmospheres, commenting with manipulations. The genre borders, if they were ever relevant, disappear completely in the second half, the ominous drones turning into something downright terrifying.
The subsequent pieces further stress the subtle interrelations in this patchwork of hissing sounds, trancelike details, rotating effects and darkly melancholic music for imaginary films. The cumulative strength of the third piece sets up a nearly suffocating intensity, while the long bow strokes of the fourth gradually evolve into a spacious sound painting. Like Voltas, the album ends with an ultra-dynamic final chapter, a compact exercise in nuance that explodes with energetic rays of greys. The most striking thing about it all is how these four people with four different nationalities (Kroatian, Swiss, Portuguese, Dutch) and backgrounds turn Vistas into something wholly convincing. It is a rich, bold and rewarding statement that not only betrays a healthy disregard for genre conventions, but also creates a strikingly refreshing balancing act, and as such also offers a new shade to the steadily expanding New Wave Of Jazz-catalog, where improvisation, minimalism and various other strands of experimental music can converge and invite curious listeners. Keep your ears open and they will be rewarded."
tracks:
1. Vista I 10:16
2. Vista II 10:03
3. Vista III 11:27
4. Vista V 07:34
5. Vista IV 10:11
Recorded at Worm, Rotterdam in 2021 by Vincent Denieul.
Medium: CD
Related Products