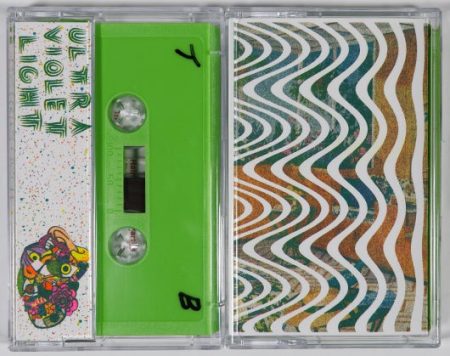 Hainbach / Todd Barton - Hainbach / Todd Barton
Another beautiful issue by Ultra Violet Light, the tape label run by Jimmy Joe Roche out of Baltimore.
The two pieces by Barton are composed/improvised in real time using a Buchla Music Easel and a TC Electronic Ditto x4 looper. "Angya is a journey that follows sounds as they unfold into various sonic universes. Texture III explores creating an ever-changing timbral drone."- Todd Barton
Hainbach was under the spell of the Gamelan. "Using Adam Morford's cut down version of the Gamelan, the rough but beautiful Gamelan Strips, I composed the first piece of this collaborative album. The second uses modular synthesizers to mimic the layering techniques of the Gamelan. The final track, Antics, explores a different but similarly influential idiophone, the African mbira. Together, these three tell a story of immersion and disintegration, folding percussive sounds into ambient timbres." – Hainbach
3 color Risograph. Hand labeled edition of 150 tapes. Download codes included.
Medium: Music Cassette
Related Products