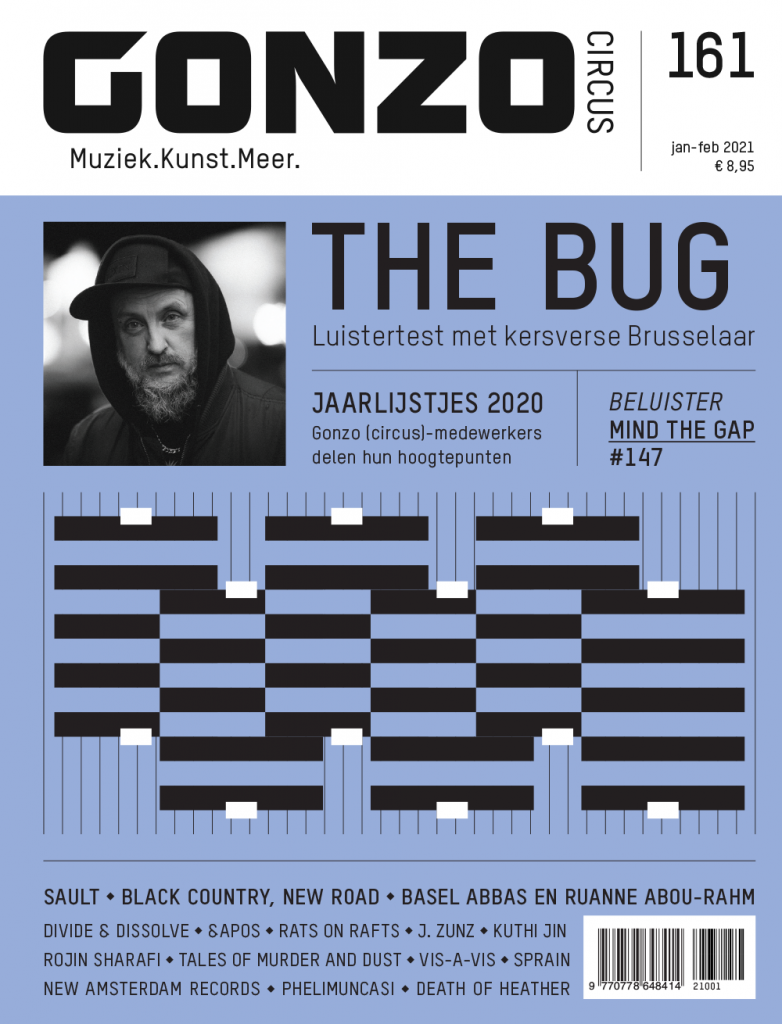 Gonzo (Circus) - # 161 (jan/feb 2021)
Dutch language magazine. Inquire for earlier issues. I have many! Including their popular "Mind the Gap" compilation for downloading.
In 2020 verschenen 2 nieuwe albums van Kevin Martin aka The Bug. In Brussel, zijn nieuwe thuisstad, werd hij onderworpen aan een luistertest.
Begin februari verschijnt op Ninja Tune het debuutalbum 'For The First Time' van Black Country, New Road, een dwarse zevenkoppige indieband.
Kan je activistisch zijn zonder teksten? Divide and Dissolve bewijst dat het kan. Het Amerikaans-Australische duo Takiaya Reed en Sylvie Nehill stelt scherp op kolonisatie en onderdrukking.
Uitgebreide gesprekken met het Deense Tales of Murder and Dust.
Christian Søndergaard en zijn kompanen maken een combinatie tussen shoegaze en postrock.
Rojin Sharafi verwerkt in haar duistere soundscapes traditionele instrumenten uit Iran.
Lorena Quintanilla oftewel J. Zunz en de magie van haar minimalistische elektronica.
Het Californische Sprain ontwikkelde zich in twee jaar van slowcoreband naar hoekige dwarsliggers.
Een rol die het Rotterdamse Rats on Rafts al een jaar of tien op zich nemen. Een Japanse tournee eind 2018 is één van de inspiratiebronnen voor hun nieuwe plaat.
Natuurlijk: terugblik op 2020 met de jaarlijstjes. In de marge daarvan maakt Peter Bruyn een analyse van één van de opvallende bands van afgelopen jaar: SAULT.
De Palestijnse kunstenaars Basel Abbas en Ruanne Abou-Rahme verkennen thema's als landsgrenzen, identiteit, verzet en diaspora.
Het kabelreport focust op het New Yorkse New Amsterdam Records en één van de oprichters daarvan, Sarah Kirkland Snider.
en nog van alles meer.
Medium: Magazine
Related Products