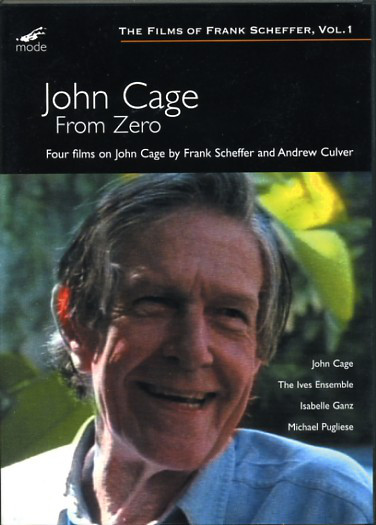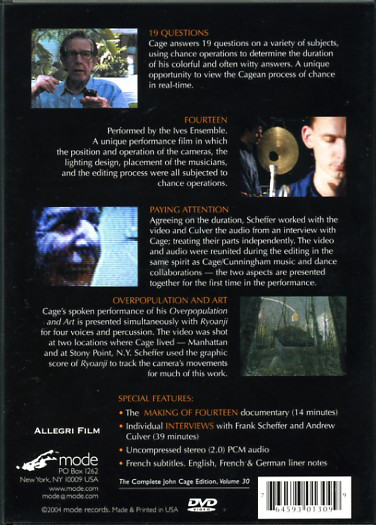 Frank Scheffer and Andrew Culver - From Zero (Four Films on John Cage)
Four films on John Cage by Frank Scheffer and Andrew Culver.
19 questions
Cage answers 19 questions on a variety of subjects, using chance operations to determine the duration of his colorful and often witty answers. A unique opportunity to view the Cagean process of chance in real-time.
Fourteen
The acclaimed Ives Ensemble perform Cage's piece of the same name. Filmed with multiple cameras using chance operations to determine the position, angle, focus and aperture settings of each shot-as well as to determine the editing process-make this a uniquely remarkable performance film. The extraordinary lighting was created by Andrew Culver, who did similar chance derived lighting plans for Cage's Europeras.
Paying Attention
Agreeing on a predetermined duration, Scheffer worked with the video portion and Culver the audio from an interview with Cage. They treated their parts independently; the video and audio were then reunited during the editing in the same spirit as John Cage/Merce Cunningham music and dance collaborations – where the two aspects are presented together for the first time in the performance.
Overpopulation and art with Ryoanji
The audio combines Cage's spoken performance of his text Overpopulation and Art simultaneously with his Ryoanji for four voices and percussion. The video was shot at two locations where Cage lived: 6th Avenue in Manhattan and at Stony Point, New York. Scheffer used the graphic score of Ryoanji to track the camera's movements for much of this work.
Extras:
The making of "Fourteen": features Andrew Culver and the director of the Ives Ensemble talking about the visual and musical aspects of the film and piece along with footage of the setup and the actual filming of the piece.
Andrew Culver on working with Cage, Scheffer and the principles behind the creation of each of the films.
Frank Scheffer speaks about his influences by and experiences with Cage, Culver and the principles behind the creation of each of the films.
Medium: DVD
Related Products