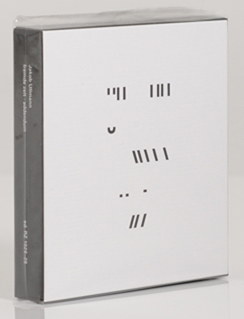 Jakob Ullmann - fremde zeit – addendum
Ullmann creates a quiet music in order to give himself and his listeners the opportunity to hear more, and better. This comes about because our ability to hear is augmented when listening to quiet music. A 4CD box with new enregistratrions of Jakob Ullmann's compositions. Recording dates 2008–2011:
Disappearing musics for six players (more or less), 1989-1991.
Solo I + II + III, 1992/1993/2010.
Composition für streichquartett 2, 1997-1999.
PRAHA: celetná – karlova – maiselova, 2004-2007.
And a second longer version from Solo III for Churchorgan is also added on the fourth CD, this version is also seperatly available as a single CD.
RZLIST
Label:
Ed.RZ
/ Ed.RZ 1026-29
Medium: CD Box
Related Products