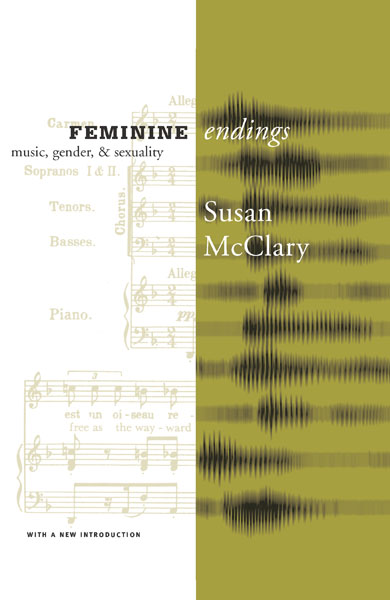 Susan Mcclary - Feminine Endings
When it was originally published in 1991, Feminine Endings was immediately controversial for its unprecedented intermingling of cultural criticism and musical studies, an approach that came to be called "the New Musicology." Through case studies of works ranging from the canonical-operas by Monteverdi and Bizet-to the contemporary-the performance art of Diamanda Galás and popular songs by Madonna-Susan McClary focuses on the ways music produces images of gender, desire, pleasure, and the body, and explores the gender-based metaphors that circulate in discourse about music. The now classic work features a new introduction that discusses the critical reception it received and the debates it has inspired.
published in 2002, paperback, 248 pages.
Susan McClary, professor of musicology at the University of California, Los Angeles, specializes in the cultural criticism of music, both the European canon and contemporary popular genres. Her most recent book is Conventional Wisdom: The Content of Musical Form (2000).
Contents:
Acknowledgments
Feminine Endings in Retrospect
1. Introduction: A Material Girl in Bluebeard's Castle
2. Constructions of Gender in Monteverdi's Dramatic Music
3. Sexual Politics in Classical Music
4. Excess and Frame: The Musical Representation of Madwomen
5. Getting Down Off the Beanstalk: The Presence of a Woman's Voice in JanikaVandervelde's Genesis II
6. This Is Not a Story My People Tell: Musical Time and Space According to Laurie Anderson
7. Living to Tell: Madonnas Resurrection of the Fleshly
Notes
Index
"McClary writes with a racy, vigorous, and consistently entertaining style. . . . What she has to say specifically about the music and the text is sharp, accurate, and telling; she hears what takes place musically with unusual sensitivity." – The New York Review of Books
Medium: Book
Related Products