Out of stock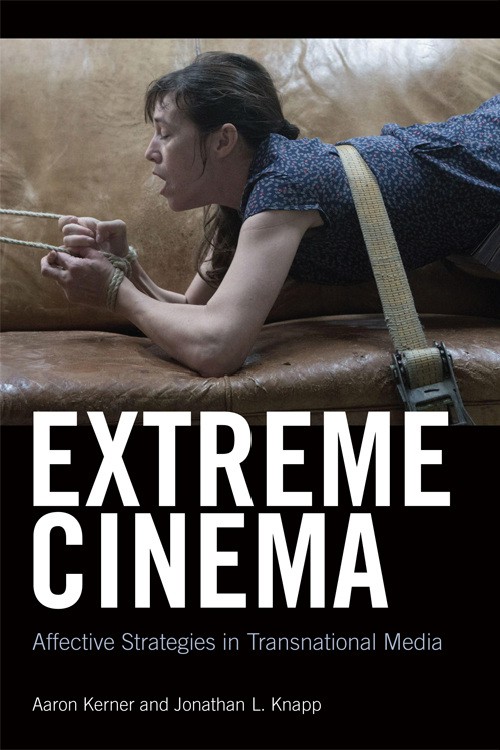 Aaron Michael Kerner and Jonathan L. Knapp - Extreme Cinema
Extreme Cinema examines the highly stylized treatment of sex and violence in post-millennial transnational cinema, where the governing convention is not the narrative but the spectacle. Using profound experiments in form and composition, including jarring editing, extreme close-ups, visual disorientation and sounds that straddle the boundary between non-diegetic and diegetic registers, this mode of cinema dwells instead on the exhibition of intense violence and an acute intimacy with the sexual body. Interrogating works such as Wetlands and A Serbian Film, as well as the sub-culture of YouTube 'reaction videos', Aaron Michael Kerner and Jonathan L. Knapp demonstrate the way content and form combine in extreme cinema to affectively manipulate the viewing body.
Table of Contents:
Acknowledgements
Chapter One: Extreme Cinema: Revisiting Body Genres
Chapter 2: Hearing: With a Touch of Sound: The Affective Charge of Audio Design
Chapter 3: Pain: Exploring Bodies, Technology, and Endurance
Chapter 4: Laughter: Belly-Aching Laughter
Chapter 5: Arousal: Graphic Encounters
Chapter 6: Crying: Dreadful Melodramas—Family Dramas and Home Invasions
Chapter 7: The End of Extreme Cinema?
Bibliography
Filmography
Cover shows a film still with Charlotte Gainsbourg from Nymphomaniac by Lars Von Trier.
About the Authors
Aaron Kerner has taught in the Cinema Department of the San Francisco State University since 2003. In 2011 he published Film and the Holocaust (Continuum)—an extensive survey of cinematic representations of the Holocaust. He also published Torture Porn in the Wake of 9/11 in 2015 (Rutgers UP). He is currently working on a range of subjects in and around the concept of ugliness and disgust (e.g., Butoh and cinema).
Jonathan L. Knapp is a graduate student in Film and Visual Studies at Harvard University. He spent a decade working at various film festivals, archives, and museums in the San Francisco Bay Area, and completed an MA in Cinema Studies at San Francisco State University. His research is motivated primarily by questions of space, place, and historical trauma—exploring the landscape in conjunction with violence, memory, and the spectral.
Medium: Book
Related Products