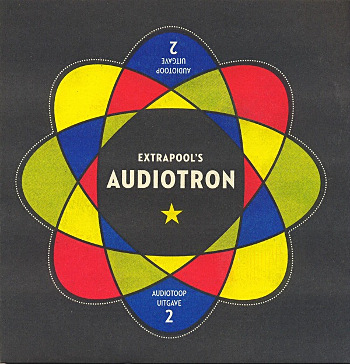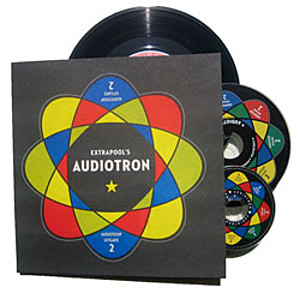 Various Artists - Audiotron
What a wonderful package, this! LONG LIVE Extrapool and ALL who sail with them! The second edition in the Audiotoop Series that is dedicated to the art of the audioplay or radioplay, whatever you'd like to call it.
The tasteful cover (designed by Red Bol) contains works by Coolhaven, Powerplant, Mai Marie & Soul is You, Wolfgang Müller, Edward Ka-spel, Ernst Markus Stein, Greg Malcolm, Idea Fire Company, Dave Phillips, Frans de Waard, Brandon Labelle, Kosten Koper, Leif Elggren, Lucky Dragons, GX Jupitter-Larsen, Joe Frawley, Runzelstirn & Gurgelstock, Kasper van Hoek/Albert Westerhoff, Roel Meelkop, Howard Stelzer and Bertin.
All this on 2 CDs (3″ and 5″) and a 7″ single.
Plus three buttons by Ergo Phizmiz and 19 postcards in a book by the participating artists. Plus  D.I.Y. dimension projector by Mai Marie Choon Dijksma. The printwork is brilliant, as usual.
Label:
Extrapool
/ Extrapool / Korm Plastics KP3035
Medium: Book + CD + CD + 7"
Related Products