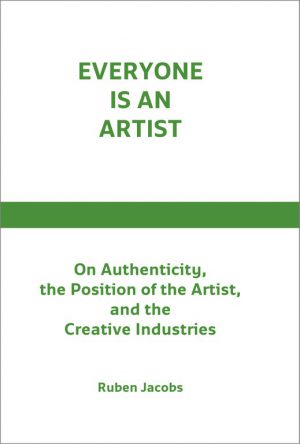 Ruben Jacobs - Everyone Is An Artist
Personal authenticity was once the primary domain of the arts. Artistic expression was seen as "the most individual expression of the most individual emotion," in the works of the Dutch poet Willem Kloos. Today, a century later, authenticity – "being yourself" – has become a societal ideal. It has also become an economic good, something we buy and sell. The creative industries play a central role in this commercial context. As a generator of artificial scarcity, it creates the desire for unique products, experiences and lifestyles, and promotes the permanent renewal of our living and working environment. What does all this mean for contemporary art? Is it a blessing, or does it merely make the artist's role more complicated? And how can artists distinguish themselves when everyone is expected to be creative and authentic in work and in life?
Ruben Jacobs (Amsterdam, 1984) is a freelance writer and lecturer in Cultural Sociology and Philosophy at the HKU University of the Arts Utrecht. In the past he worked as a journalist for Dutch broadcasting companies, print and online media.
Published in 2016, paperback, 96 pages, size: 11,5 x 17 cm
Also available in Dutch: here.
Publisher:
V2
/ ISBN: 9789080179356
Medium: Book
Related Products