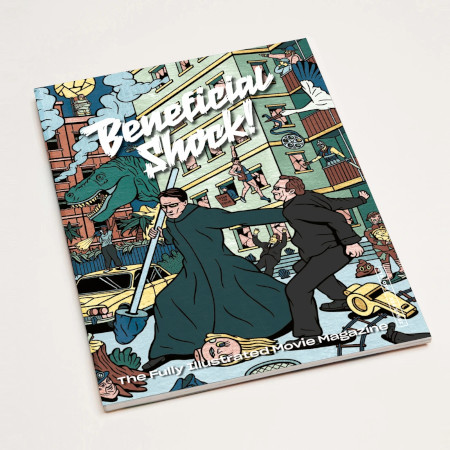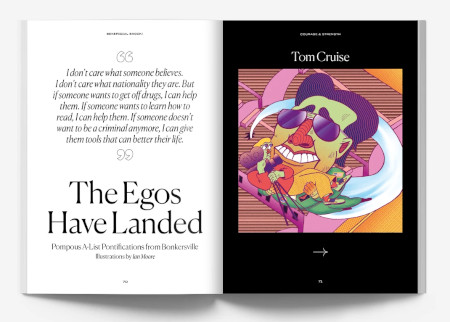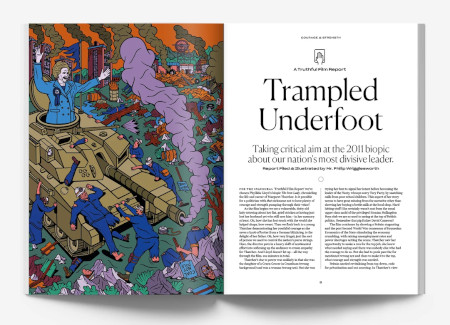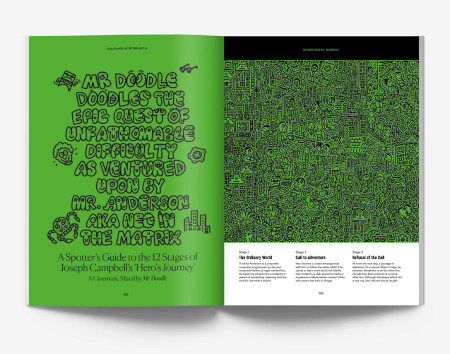 Beneficial Shock! - Issue Six: Courage & Strength
The courage to face any kind of adversity, and the strength it often takes to persevere is what is explored in this issue, and film offers up some doozies when it comes to bold acts of brawn and epic feats of fearlessness. Filmmakers themselves often lead the charge, so inside you'll find pieces on Steve McQueen, Mirata Mita and Derek Jarman who have all taken courageous steps in raising awareness for vital causes both in front of and behind the camera. The editors shine a light on the life of Henri Langlois, often credited as the saviour of cinema, reveal some of their favourite ballsy whistleblowers, celebrate some unconventional screen mentors and even make a case for the movie coward.
On the last page you will find Anatomy of the Cover" which is always nice in between reads. Also nice is the list of films that are somehow involved in this issue:
The Wizard of Oz (1939)
Serpico (1973)
Annie Hall (1976)
All The President's Men (1976)
Manhattan (1979)
Silkwood (1983)
The Investigation: Inside a Terrorist Bombing (1990)
Silence of the Lambs (1991)
In the Name of the Father (1993)
Jurassic Park (1993)
Blue (1993)
Pulp Fiction (1994)
Fargo (1996)
The Matrix (1999)
Being John Malkovich (1999)
Erin Brokovitch (2000)
Billy Elliott (2000)
The Gladiator (2000)
Hunger (2008)
The Iron Lady (2011)
The Fifth Estate (2013)
The Way, Way back (2014)
Hunt for the Wilderpeople (2016)
Bob lazar: Area 51 & Flying Saucers (2018)
Moonlight (2018)
Dumplin'(2018)
The Trial of the Chicago 7 (2020)
Mangrove (2020)
Featuring illustrative work by Mr. Doodle, Zara Wilkins, Neil Webb, Dolce Paganne, Ian Moore, Isip Xin, Matt Lee, Rafal Kwiczor, Arthur Buxton, Liam Barrett, Richard Falle, Jacob Hinrichs, Jono Lewarne, Gary Embury and Andy Carter.
The printwork and paper quality are, as always, impeccable! 80 pages worth of beneficial experiences…
fthry
Medium: Magazine
Related Products