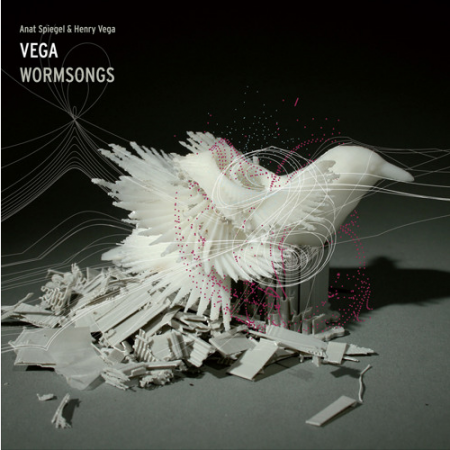 Anat Spiegel and Henry Vega - WORMSONGS
Vega's digital language covers the spectrum between noise and pure sine. Using this sound world, Vega writes music in block gestures that can be described as micro-minimal with a passion towards machine-kind.
The songs strip down with the ideas of lyrical lines, replacing them with automatic instruments triggered to match an equally automatic vocal part. Inspired by Spiegel's voice, each score in the Wormsongs is motivated in part by social evolution.
The composed music combs the centuries for a language to express this theme, touching often on practices such as religious intoning and spoken-word. These practices are internalized to create an original vocal and computer language that drives this book of songs and its message.
Review
"Both his minimal sounds, as well as vocal levels are determined by the granulation process, whether by computer or by diction moving in fast flickering and soft flowing blocks. Vega is interested in the machine, creating a musical language where lyrical movement is replaced by automated methods." (DE:BUG)

Release from 2011.
Medium: CD
Related Products