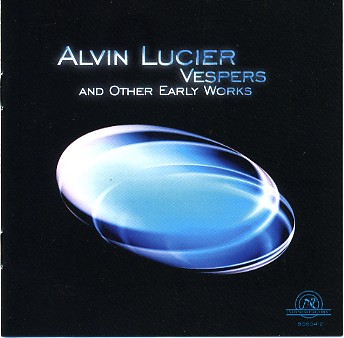 Alvin Lucier - Vespers and Other Early Works
In Vespers (1969) performers with Sondols (sonar-dolphin), hand-held pulse wave oscillators, explore the acoustic characteristics of given indoor or outdoor spaces by monitoring the echoes of the pulse waves off the walls, floors and ceilings, as well as any objects or obstacles in range of the sound waves. Over time, the listener receives an acoustic signature of the room.
In Chambers (1968), battery-operated radios, tape recorders, and electronically powered toys of various kinds are hidden in paper bags, shoes, kettles, and small suitcases and other small resonant environments. As performers carry these small "rooms" into larger ones, such as concert halls, football stadiums and underground cisterns, the sounds, already altered by the acoustics of the small environments, are altered a second time by the acoustics of the larger ones. This version was recorded in 2002.
North American Time Capsule (1967), for voices and vocoder, is described metaphorically by Lucier as a message to listeners who don't know about us. These could be very remote and exotic humans or the fabled "beings" in some other part of the universe. The message is encoded in accordance with the empirical fact that purely electronic signals are more easily transmitted through space (and through time) than the more complex waveforms of speech.
(Middletown) Memory Space (1970) is a reenactment of the composition called "(Hartford) Memory Space, for any number of instrumental players with recordings of environmental sounds." The instructions for the original (city) composition say: "For performances in places other than Hartford, use the name of the place of performance in parentheses at the beginning of the title." The instructions tell the performers to go out into the city and record, by any means-electronic recording, graphic notation, or memory-the sounds of the city, and to return to the inside performance space at any time and "re-create, solely by means of your voices and instruments and with the aid of memory devices (without additions, deletions, improvisation, interpretation) those outside sound situations."
Elegy for Albert Anastasia (1961-1963) is described as composed "for electromagnetic tape using very low sounds most of which are below human audibility."
Liner notes by Robert Ashley.
Medium: CD
Related Products