Out of stock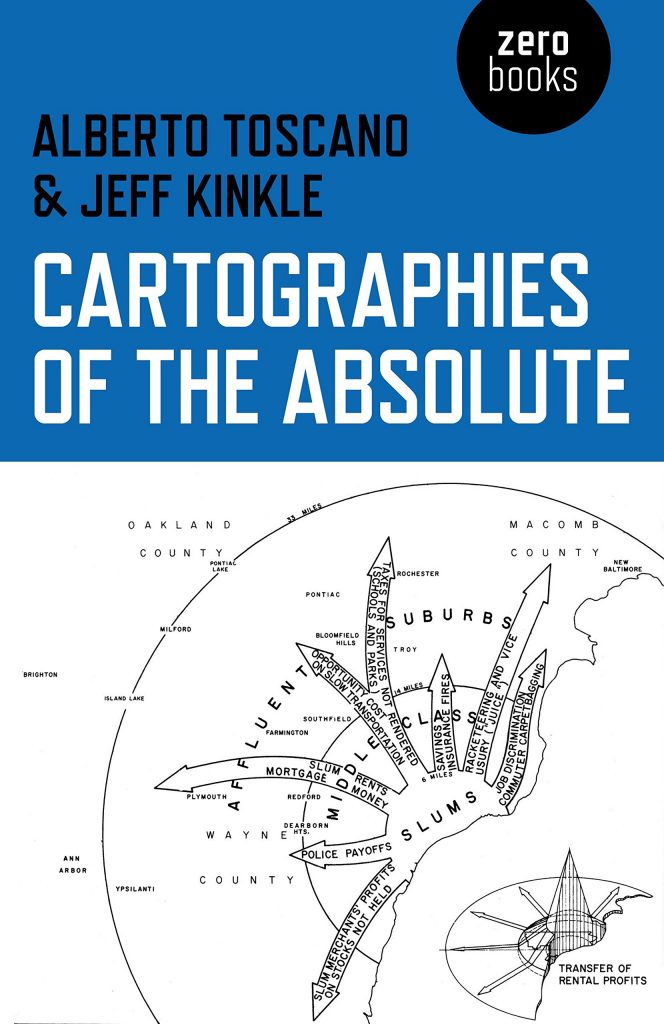 Alberto Toscano & Jeff Kinkle - Cartographies Of The Absolute
Can capital be seen? Cartographies of the Absolute surveys the disparate answers to this question offered by artists, film-makers, writers and theorists over the past few decades. It zones in on the crises of representation that have accompanied the enduring crisis of capitalism, foregrounding the production of new visions and artefacts that wrestle with the vastness, invisibility and complexity of the abstractions that rule our lives.
"Cartographies of the Absolute is an essential guide to the most formidable and urgent questions about how we see, represent and try to understand the greatest forces shaping our historical moment." ~ Trevor Paglen, artist and author of Blank Spots on the Map: The Dark Geography of the Pentagon's Secret World
"A grand tour de force of western cognitive maps and a searching dérive through anti-capitalist dimensions of theory, media and art – now pulsing on the rotting flesh of the world system. With critical acumen, serious political commitment and more than a modicum of erudite cool, Toscano and Kinkle revisit Jameson's landmark work on cognitive mapping and, by drawing extensively on the Marxist critical tradition, forward the life and death project of teaching readers to read in a dialectical mode. Grasping the aesthetic as at once program and battleground, they clearly manifest the necessity, the stakes, and the fine-grained resolution of a radical critical practice." ~ Jonathan Beller, author of The Cinematic Mode of Production
Alberto Toscano is Reader in Critical Theory at the Department of Sociology, Goldsmiths, University of London.
Jeff Kinkle completed his PhD at the Centre for Cultural Studies, Goldsmiths, University of London. His dissertation was on Guy Debord, parapolitics and conspiracy theory.
Paperback, published in 2015, 295 pages.
Medium: Book
Related Products