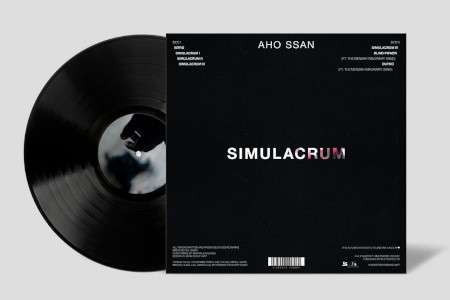 Aho Ssan - Simulacrum
Debut LP from Paris-based Aho Ssan, or Désiré Niamké. Informed by his experiences growing up while black in the French suburbs, Niamké turns a critical gaze towards lived situations of discrimination and racism in France. Subtext Recordings is a Bristol founded / Berlin based label curated by James Ginzburg.
Inspired in part by French sociologist Jean Baudrillard's influential text "Simulacres et Simulation," the record plays with synthesis and simulation, picking apart notions of modulatable, subjective veneers of reality. Having studied film, Désiré's interests in film making run parallel with his compositional process. After his studies in graphic design and cinema, he started composing electronic music and creating his own digital instruments.
"Simulacrum" is influenced by Sun Ra and Afrofuturism. Wanting to collaborate with a jazz musician but unable to find one, he turned to building patches in Max/MSP to create simulations of them. The Mensah Imaginary Band features on tracks "Blind Power" and "We Don't Have to Worry Anymore." Taking shape across Max objects and patch cables, the ensemble takes its name from Niamké's trumpet player grandfather Mensah Antony, who led a Ghanaian band in Ivory Coast in the 1950s and acted as a conductor at the country's famed Abissa Festival.
Aho Ssan, who never met Antony and has no access to recordings or information about his musical career, speculates on his musical heritage.
Niamké won the Foundation France television prize for his soundtrack to the 2015 film "D'Ingha Mago," and has since worked on several projects affiliated with IRCAM.
Tracks:
1. Intro 04:17
2. Simulacrum I 06:45
3. Simulacrum II 06:02
4. Simulacrum III 05:36
5. Simulacrum IV 08:48
6. Blind Power (ft. The Mensah Imaginary Band) 07:44
7. Outro (ft. The Mensah Imaginary Band) 05:20
Medium: LP
Related Products