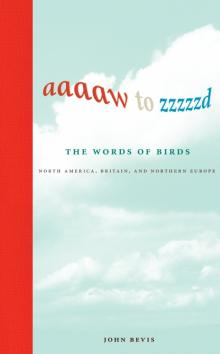 John Bevis - Aaaaw to Zzzzzd: The Words of Birds
Birds sing and call, sometimes in complex and beautiful arrangements of notes, sometimes in one-line repetitions that resemble a ringtone more than a symphony. Listening, we are stirred, transported, and even envious of birds' ability to produce what Shelley called "profuse strains of unpremeditated art." And for hundreds of years, we have tried to write down what we hear when birds sing. Poets have put birdsong in verse (Thomas Nashe: "Cuckoo, jug-jug, pu-we, to-witta-woo") and ornithologists have transcribed bird sounds more methodically. Drawing on this history of bird writing, in Aaaaw to Zzzzzd John Bevis offers a lexicon of the words of birds. For tourists in Birdland, there could be no more charming phrasebook.
Charming is also it's small size (4.25 x 7 inch) and (hard) cover. 160 ages, 24 b&w illustrations.
Medium: Book
Related Products