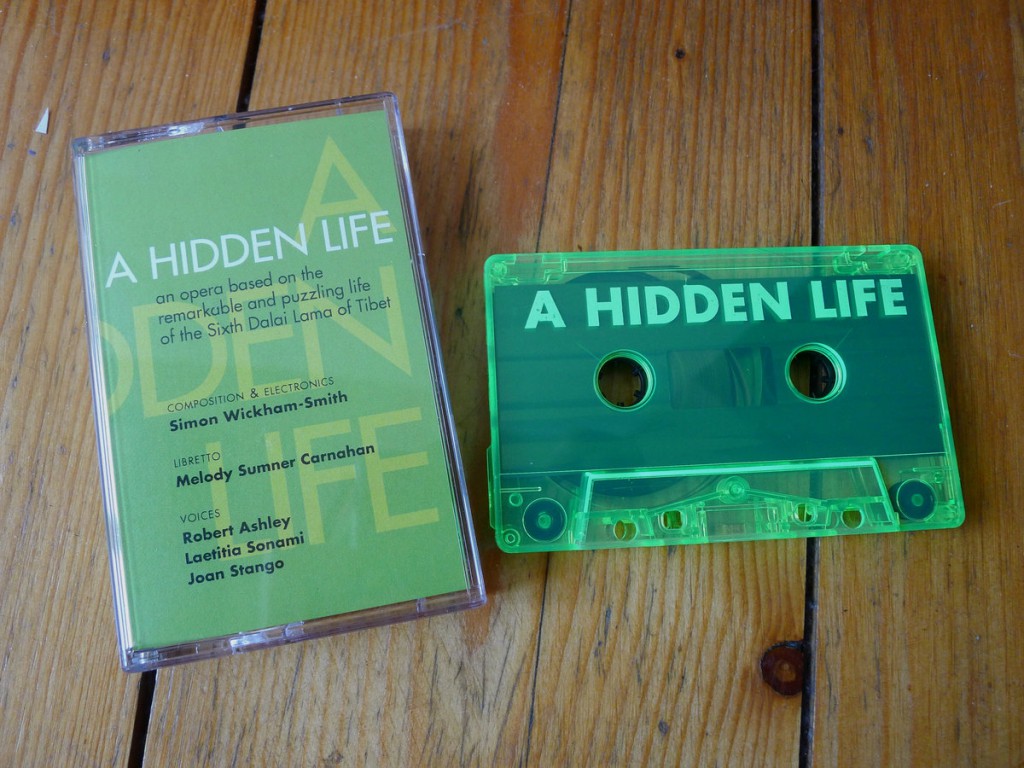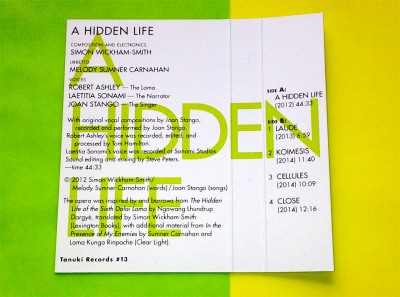 Simon Wickham-Smith - A Hidden Life
Cast:
Robert Ashley, The Lama
Laetitia Sonami, The Narrator
Joan Stango, The Singer
Melody Summer Carnahan, libretto
Simon Wickham-Smith, translation and electronics
The brilliant LP on Lovely Music 'Songs of Milarepa' (by Eliane Radigue, Robert Ashley and Lama Kunga Rinpoche), was published in 1983. Being a recognized scholar in Tibetan and Mongolian sacred literature, British musician and astrologer Simon Wickham-Smith decided to set to music some of the writings of Lama Kunga Rinpoche and Ngawang Lhundrup Dargyé, the latter based on his own translation (published as 'The Hidden Life of the Sixth Dalai Lama'), and originating from 1756. He managed to secure the participation of Laetita Sonami, Joan Stango and the late Robert Ashley – his voice probably comes from the Songs of Milarepa original sessions, though this is not mentioned in the cassette's liner notes.
Occupying the entirety of side 1, A Hidden Life is a mystical, electronic journey alternating between sacred texts readings, improvised singing and long-held electronic notes and music beds, the latter illustrating the key Buddhist concept of impermanence, a vision of human existence considered as 'a constant state of flux'.
The B-side collects 4 instrumental electronic tracks by Simon Wickham-Smith solo, wiht long-held notes creating the meditiative ambience of the A-side.
Total time: ca. 87 minutes. Includes a download code.
Medium: Tape
Related Products