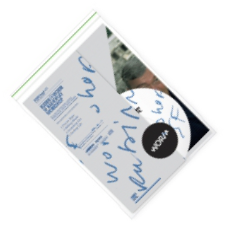 WORM Horspil - #21 – Kubin@WORM – SF Radioplay Workshop
Felix Kubin worked intensely with four batches of people in the WORM soundlab. Their mission: produce a Science Fiction radioplay. The result: 4 highly entertaining and varying radio adventure stories. Felix's own expertise in both sci-fi culture and the characteristics of radio play, shines through in the way he helped shape following pieces:
'Frozen Hope' by Selena Savic, Vincent Denieul and Marit Shalem / 'Talking Heads' by Clara Lozano, Ludmila Rodrigues and Robert Kroos / 'Swimming Out' by Jan van Nuenen, Mariette Groot and Laura d'Ors / 'Sucking Life' by Florian Cramer and Jeroen Kuster.
Medium: CD
Related Products