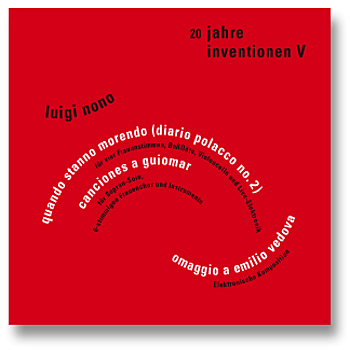 Luigi Nono - 20 Jahre Inventionen V
CD with three compositions by Luigi Nono, recorded at the Berlin festival "Inventionen".
The live electronics that Nono worked with for the first time in the early 1980's at the Freiburg Experimental Studio also serves the musical displacement: the music moves away from clear spatial and timbral assignations. Due to electronic processing, the sonic characteristics of both instruments, bass flute and cello, can hardly be recognized. Tones and gestures are lengthened into seeming infinity and move in space.
Track 1: "Quando stanno morendo (diario polacco no.2)" for four female voices, bass flute, violoncello and live electronics follows various texts as a soul-searing tribute to the persecuted in Poland.
Track 2: "Canciones a Guiomar", for soprano, women's chorus of 6 voices & instruments on texts by the Spanish writer Antonino Machado.
Track 3: "Omaggio a Emilio Vedova", for tape, a hommage to the Italian painter who was greatley admired by Luigi Nono.
RZLIST
Label:
Ed.RZ
/ ed. RZ 4006
Medium: CD
Related Products